TIER and Sight Loss Councils launch shared e-scooter and e-bike parking campaign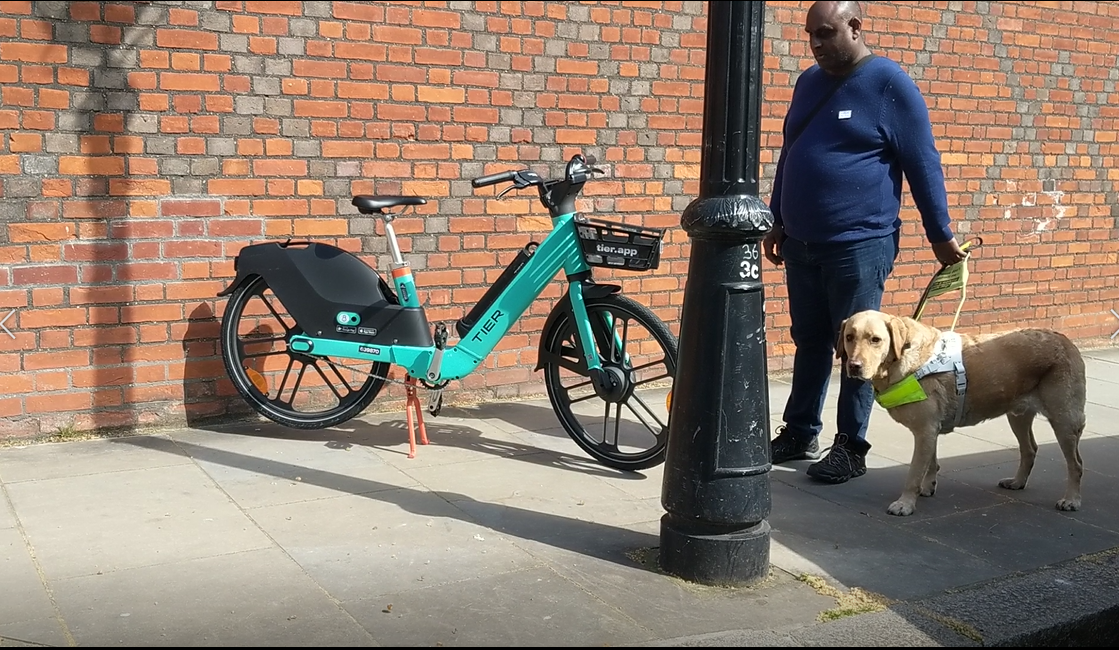 Groups of blind and partially sighted people, known as Sight Loss Councils, have worked with e-scooter operator TIER to produce joint videos about the impact poor parking has on visually impaired people's lives

The videos demonstrate how TIER's shared e-scooter and e-bikes should be parked safely and correctly

The campaign is part of TIER's broader range of activities dedicated to improving the accessibility of its service and the Sight Loss Council priority project to ensure streets are accessible so blind and partially sighted people can navigate them independently and safely
London, 25th May, 2023: TIER, the world's largest provider of shared micro-mobility, and Sight Loss Councils have today launched a joint campaign to highlight proper parking etiquette.
Sight Loss Councils, funded by Thomas Pocklington Trust, are led by blind and partially sighted volunteers. Together, they tackle local issues and work with businesses and service providers to improve the accessibility of their services.
Together Sight Loss Councils and TIER are collaborating on a video and social media campaign to encourage shared micro-mobility users to park safely and correctly. The videos show how difficult identifying and navigating around a poorly parked shared e-scooter or e-bike is for someone with a visual impairment, emphasising the importance of keeping pavements clear when parking a vehicle at the end of a ride.
You can find the video on proper e-scooter parking etiquette here, and the video on proper e-bike parking etiquette here.
Benjamin Bell, Senior Director at TIER, commented: "This is all part of our goal to safely blend shared micro-mobility into the urban landscape. Proper parking etiquette ensures people with sight loss don't have to navigate around e-bikes or e-scooters blocking their path. Our long-standing partnership with Sight Loss Councils is built on the shared aim of boosting sustainable travel in a way that doesn't harm the independence and safety of blind and partially sighted people.
"In parallel, with input from Sight Loss Councils, we are developing an acoustic vehicle alert for all shared e-scooters, so people can hear oncoming vehicles, and our Safety Board of independent experts meets quarterly to scrutinise our approach to safe and responsible operations."
Haren Thillainathan from Sight Loss Councils commented:
"We believe everyone should be
able to navigate our streets independently and safely, enabling them to live the lives they want to lead.
"We are proud of our joint work with TIER to help ensure everyone understands parking etiquette and the hazard abandoned e-scooters and e-bikes can pose. We will also continue our joint work to develop and test a universal acoustic e-scooter alert.
"Our ultimate goal, using our lived experience of sight loss, is to work with businesses and services to ensure our streets are accessible to all."
If you come across a poorly parked e-scooter or e-bike you can report it to TIER's operations team in multiple ways. TIER bikes feature a QR code in the front basket which takes you to a chat window with our customer care team. Alternatively you can tweet us at @TIERUK_StPatrol or you can message our customer care team in the Help and Safety Section of the app or on our website.


- ENDS -
About TIER Mobility
TIER Mobility is the world's leading shared micro-mobility provider, with a mission to Change Mobility for Good. By providing people with its e-scooter, e-bike and pedal bike services, the company enables cities to create more sustainable environments and move towards a zero-emission future. Following the acquisitions of nextbike and Spin, TIER is now present in 560+ cities and communities in 31 countries with a fleet of more than 350,000 vehicles. This makes TIER the largest multimodal micro-mobility operator globally. With a focus on providing the safest, most equitable and most sustainable mobility solution, TIER has been climate neutral since 2020.
TIER's investors include SoftBank Vision Fund 2, Mubadala Capital, Northzone, Goodwater Capital, White Star Capital and the UK's M&G Investments. For more information, visit www.tier.app.
About Sight Loss Councils
Sight Loss Councils (SLC), funded by Thomas Pocklington Trust and led by blind and partially sighted volunteers, advocate the needs of blind and partially sighted people, and influence positive change.

There are currently 18 SLCs across the country. Each SLC is made up of blind and partially sighted members who meet monthly to discuss accessibility issues and plan projects
Our priorities include accessible transport and safe streets so everyone can travel independently and safely. We also work to increase the accessibility of healthcare, shopping, museums and galleries, and sports and leisure facilities, depending on local area need.

Over the next year Thomas Pocklington Trust will extend its SLCs further across the country. To find out more visit:
www.sightlosscouncils.org.uk/become-a-member