London e-scooter operators begin on-street testing of universal sound for shared e-scooters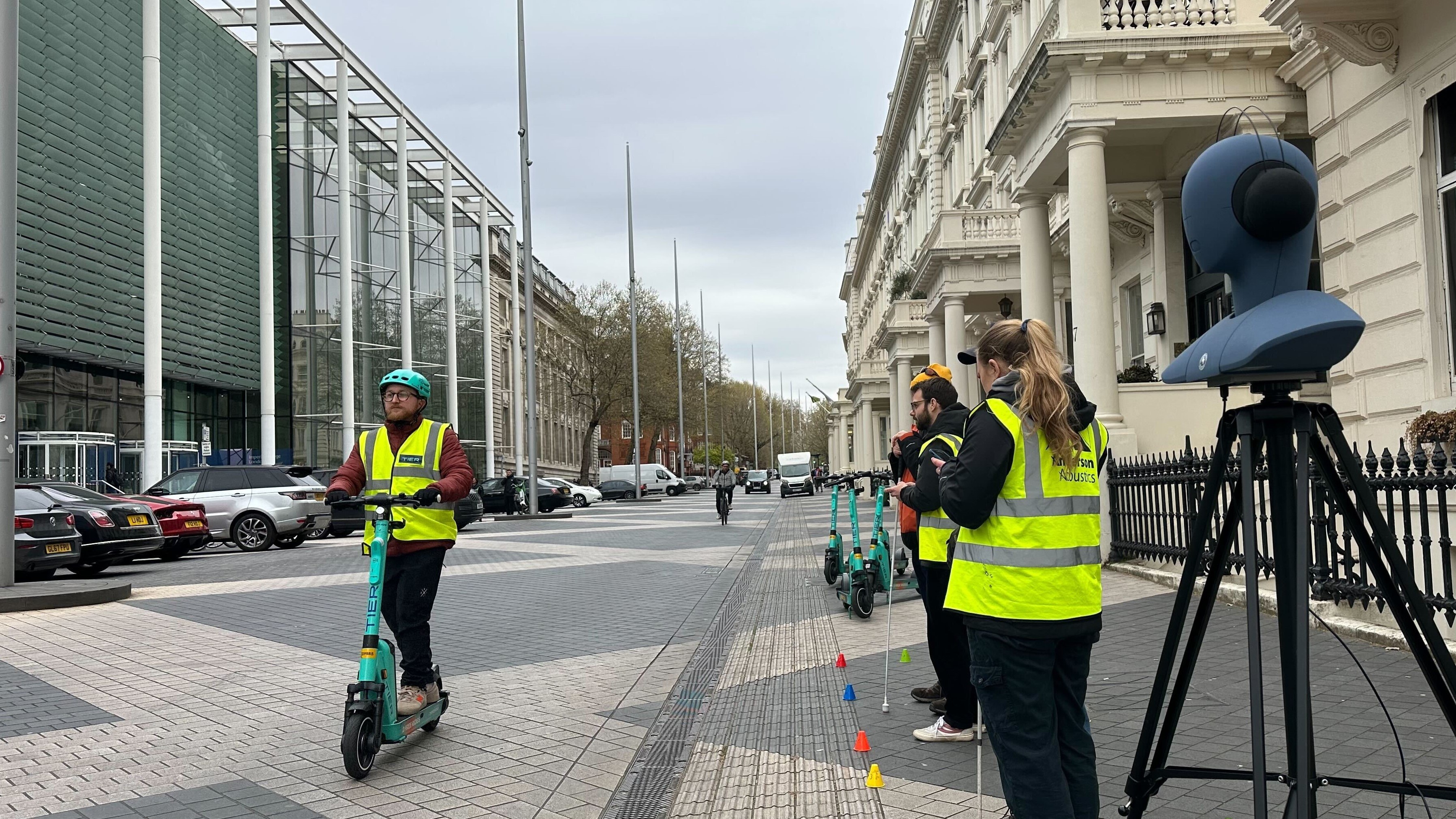 On-street testing of the first universal acoustic vehicle alert for shared e-scooters led by TIER

The sounds are the result of months of research and testing at UCL's PEARL laboratory and testing is being conducted by Anderson Acoustics, partners for the TfL Urban Bus Sound project

The research, funded by TIER, is supported by TfL, its independent Disability Advisory Group, leading charities and other London Operators

On-street testing of a 'universal sound' for rental e-scooters to alert pedestrians and other road users of their approach is now taking place on London's streets. The research is being conducted by Anderson Acoustics following extended experiments at UCL's specialist Person-Environment-Activity Research Laboratory (PEARL), together with London's other e-scooter operators, TIER, Lime and Dott.
The on-street testing is the first time any of the acoustic alerts have been heard in public, with researchers assessing how pedestrians react to the different sounds being tested. The aim is to improve safety across the e-scooter industry, helping road users and particularly partially sighted and blind people to identify when a shared e-scooter is being ridden in their vicinity, regardless of its operator or make.
Sight Loss Council volunteers with lived experience of sight loss are informing the development of this universal sound in partnership with TIER. Sight Loss Councils, funded by Thomas Pocklington Trust, are led by blind and partially sighted (BPS) volunteers who work with businesses and services to ensure what they do is accessible and inclusive.
The findings of the testing will be analysed ahead of a broader pilot of the universal sound in London, York and TIER locations in Essex later this year.
Fred Jones, Regional General Manager, Northern Europe, TIER commented: "It has been a real privilege to have been involved in this pioneering safety work. The depth and quality of research undertaken so far by the team at UCL and Anderson Acoustics is truly staggering, and it is great that testing is now moving into the real world. We are proud that this industry-leading work is taking place in the UK, with the technology ultimately being offered around the world.
"At the heart of this collaborative project is our desire to ensure micro-mobility is as safe as possible, both for users and the wider public. We take the responsibility of introducing a new form of transport to our streets seriously and this is part of our broader push to make our cities safer, cleaner and better places to live."
Helen Sharp, TfL's e-scooter trial lead, said: "Our trial is the only legal way to ride an e-scooter on public roads in London and we want it to work for everybody. We're really pleased to see the e-scooter operators working with University of College London on the next stage of testing for a sound for rental e-scooters to alert people of their approach. The trial should take everyone's accessibility needs into account, and this testing moves us closer to finding a solution that would make it easier for people to know that an e-scooter is near them, in particular people who are visually impaired. We will continue to engage with people with accessibility needs and keep safety our number one priority".
Mayor Philip Glanville, London Councils Executive Member for Climate Change, Transport and Environment, said:
"London boroughs, TfL and operators have put safety at the forefront of the London rental e-scooter trial and will continue to champion accessibility, including for vulnerable Londoners. It is therefore good to see TIER trialling an audible alert when an e-scooter is used, making them easier to detect, as this has the potential to be an innovative new safety feature and a positive response to some concerns.
"Rented e-scooters continue to be a sustainable, green alternative transport option in participating boroughs. Through this partnership, local councils are able to shape how these services operate including through signed bays and speed restrictions. We continue to work together to shape micro-mobility and promote sustainable transport to ensure we meet our net zero goals in a way that brings all of our diverse communities with us."
Grant Waters, Principal Consultant, Anderson Acoustics added: "The real challenge of this project is creating a universal sound and functionality that balances the needs of the pedestrian and the riders to make both experiences safer and more comfortable. Collaborating with UCL PEARL, we've worked together to test hundreds of different sounds to see how well they help pedestrians hear, locate and understand the behaviour of e-scooters in a fraction of a second. We've now brought these innovative experiments into real-world streets, both in busy and quiet locations, to test how people with vision impairment find the shortlisted sounds in context and to understand their acceptability and sound quality."
Sight Loss Council member, Harry Meade, said: "It's really important for Sight Loss Councils to be involved in this kind of testing. This is because it means the input of people with lived experience of sight loss informs this work. Ultimately, we really want to contribute to the right kind of sound being utilised so that e-scooters can be as safe as possible for blind and partially sighted pedestrians."
Professor Nick Tyler, Director, UCL PEARL, added: "Keeping people feeling safe is crucial, both for riders and for vulnerable pedestrians, and we worked with TfL's Independent Disability Advisory Group during the project to help us make the sounds as inclusive as possible. The sounds we have developed are designed to alert people, but not increase the urban noise level".
Hal Stevenson, Senior Public Affairs Manager at Lime said: "Lime is pleased to be working collaboratively with UCL Pearl, TfL and the other London e-scooter providers to identify and test a universal sound for rental e-scooters. Safety is the focus of everything we do at Lime and we look forward to assessing the impact of this new feature and will continue to invest in innovation innovate in order to protect our riders, pedestrians and other road users"
- ENDS -
About TIER Mobility
TIER Mobility is the world's leading shared micro-mobility provider, with a mission to Change Mobility for Good. By providing people with a range of shared, light electric vehicles, from e-scooters to e-bikes, TIER helps cities reduce their dependence on cars. Founded in 2018 by Lawrence Leuschner, Matthias Laug and Julian Blessin, TIER is headquartered in Berlin and currently operates in 260+ cities across 22 countries in Europe and the Middle East. With a focus on providing the safest, most equitable and most sustainable mobility solution, TIER has been climate neutral since 2020.
TIER's investors include SoftBank Vision Fund 2, Mubadala Capital, Northzone, Goodwater Capital and White Star Capital. For more information, visit www.tier.app.
About Sight Loss Councils
Sight Loss Councils (SLC), funded by Thomas Pocklington Trust and led by blind and partially sighted volunteers, advocate the needs of blind and partially sighted people, and influence positive change.
There are currently 18 SLCs across the country. Each SLC is made up of blind and partially sighted members who meet monthly to discuss accessibility issues and plan projects. Our priorities include accessible transport and safe streets so everyone can travel independently and safely. We also work to increase the accessibility of healthcare, shopping, museums and galleries, and sports and leisure facilities, depending on local area need.
Over the next year Thomas Pocklington Trust will extend its SLCs further across the country. To find out more visit: www.sightlosscouncils.org.uk/become-a-member