Connecting micro mobility and public transportation in Hamburg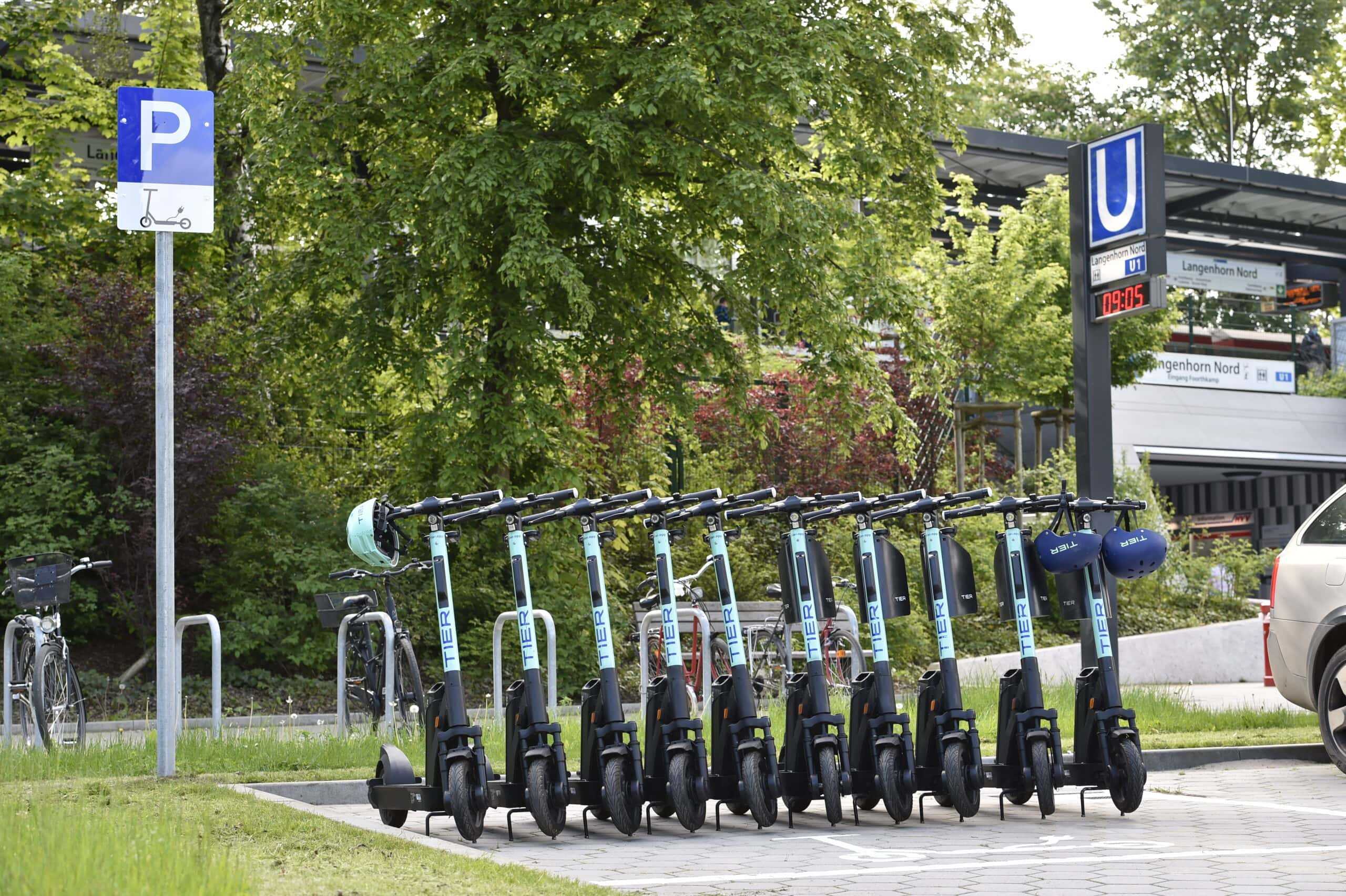 On our mission to change the world of urban transport and provide accessible mobility to all, we partnered up with Hamburg's largest public transport operator, Hamburger Hochbahn AG to be integrated in Hamburg's MaaS solution hvv switch. Last week, we launched our deep integration with hvv switch that allows users to not only see TIER vehicles, but also to book and pay for their journey in the hvv switch app. With the integration in hvv switch we are adding one more important component to our ongoing partnership with Hamburgs public transport operators, which we have entered into earlier this year.
In addition to the hvv switch integration, we also initiated a long-term infrastructure project with HOCHBAHN. After winning the tender as an exclusive e-scooter provider in November 2020, we launched a parking pilot project in June 2021. We expanded our business area and set up physical bonus parking zones at four public transport stations to serve as first and last mile mobility hubs for commuters in the outer districts of Hamburg.
"We are pleased that the TIER e-scooters in Lokstedt and Langenhorn are being used by residents as a last mile option to the subway stops. This shows that they provide a useful complement to public transport for the first and last mile. The cooperative approach of TIER and HOCHBAHN to focus on parking zones for e-scooters at subway stops proves to be an important measure to support proper parking of e-scooters near the stops and to promote convenient transfer to public transport." Dominik Radzuweit, HOCHBAHN Innovation Manager.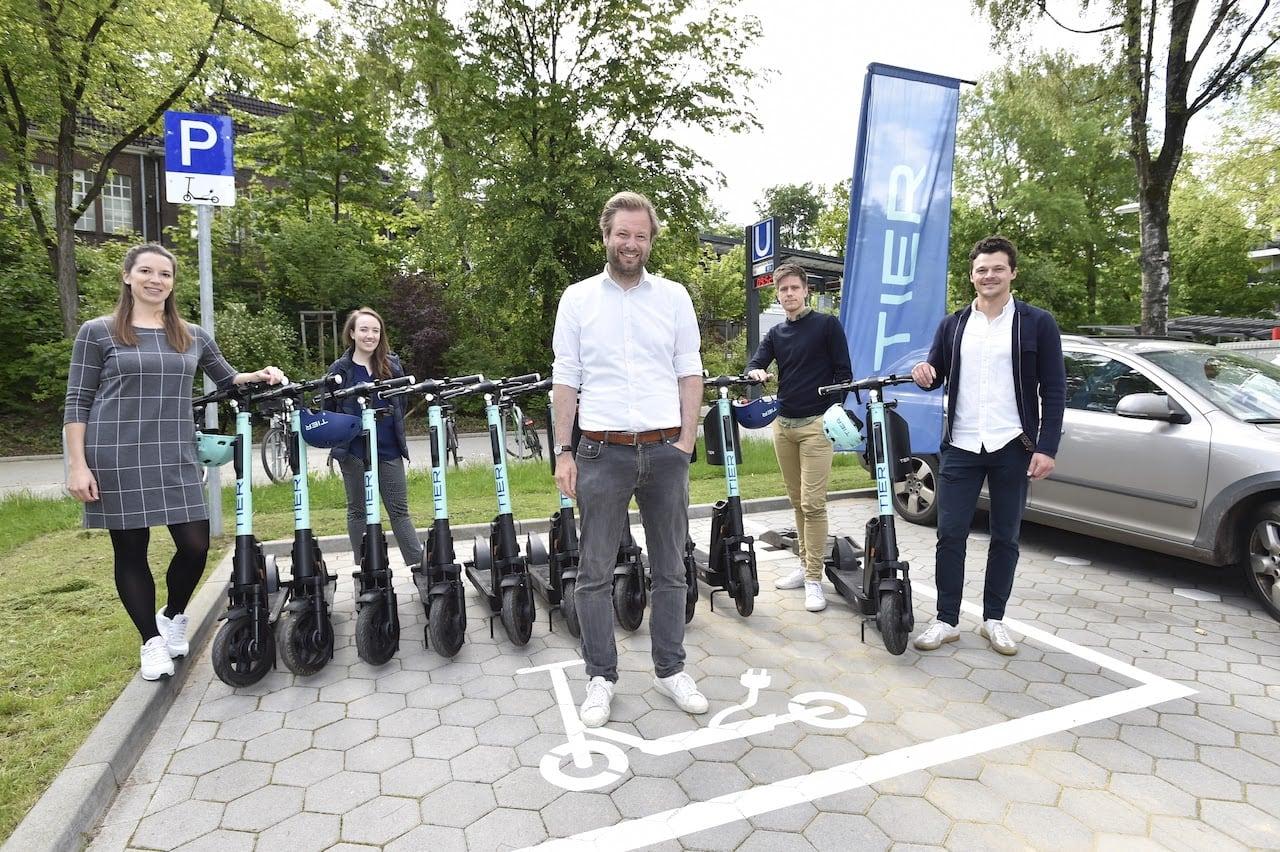 In order to evaluate the impact of this project we formulated three hypotheses. We started this project with the aim of improving the transport connections in the outskirts by providing a micro mobility fleet and setting up convenient parking solutions at the stations, allowing a smooth and fast connection to Hamburg's city center.
Hypothesis 1: By offering e-scooters in Hamburg's outskirts, we improve the accessibility and the local mobility infrastructure for citizens.
After establishing new business areas in Lokstedt and Langenhorn, we went from zero to over 5.000 rides within the first 20 days, which shows that people are accepting the additional mobility offer and perceive it as an improvement in their daily mobility journey. We were able to triple our monthly rides since the start of the project and we see a constant increase in users, rides, active vehicles and use of the parking hubs.
To challenge our theory qualitatively and receive direct feedback from our ridership we sent out a survey to TIER customers living in the pilot project areas Langenhorn and Lokstedt. The results show that more than 50% of respondents use micro mobility to commute to work or to school. The overwhelming majority of 91% believe that e-scooters actually improve the local mobility offer. This result proves the existing demand for shared mobility services, such as e-scooters, to create additional and sustainable alternatives to the private car.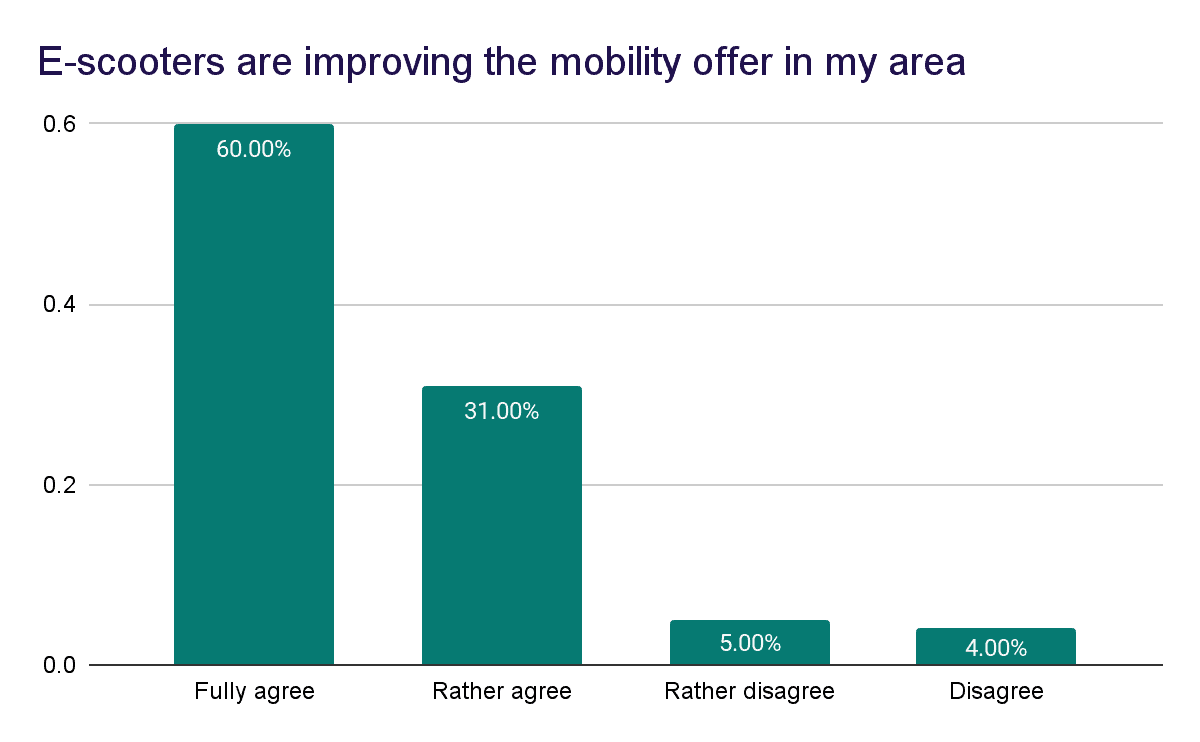 Second, we wanted to increase the intermodality between shared micro-mobility and public transport in order to encourage users to leave their private car for short distances and use alternative and reliable mobility solutions especially for the first and last mile connection to public transport stations.
Hypothesis 2: We increase multimodality and intermodality through incentivised parking solutions near public transport stations.
TIER sees itself as an extended arm of public transport. We already link our services with public transport products digitally via MaaS applications and incentivise intermodal usage. Therefore the next logical step is to also physically connect our services with parking hubs near train stations. In our survey, 44% of residents in the pilot areas responded that they combine micro mobility and public transport in their trips on a weekly to monthly basis. Even 25% of respondents said they use multimodal offers on a daily to weekly basis. In addition 58% of respondents said that e-scooter parking hubs at train stations could lead them to use public transport more often. These results can be seen as a strong validation of the second hypothesis and serve as a motivation to continue on our path of connecting our services with public transport.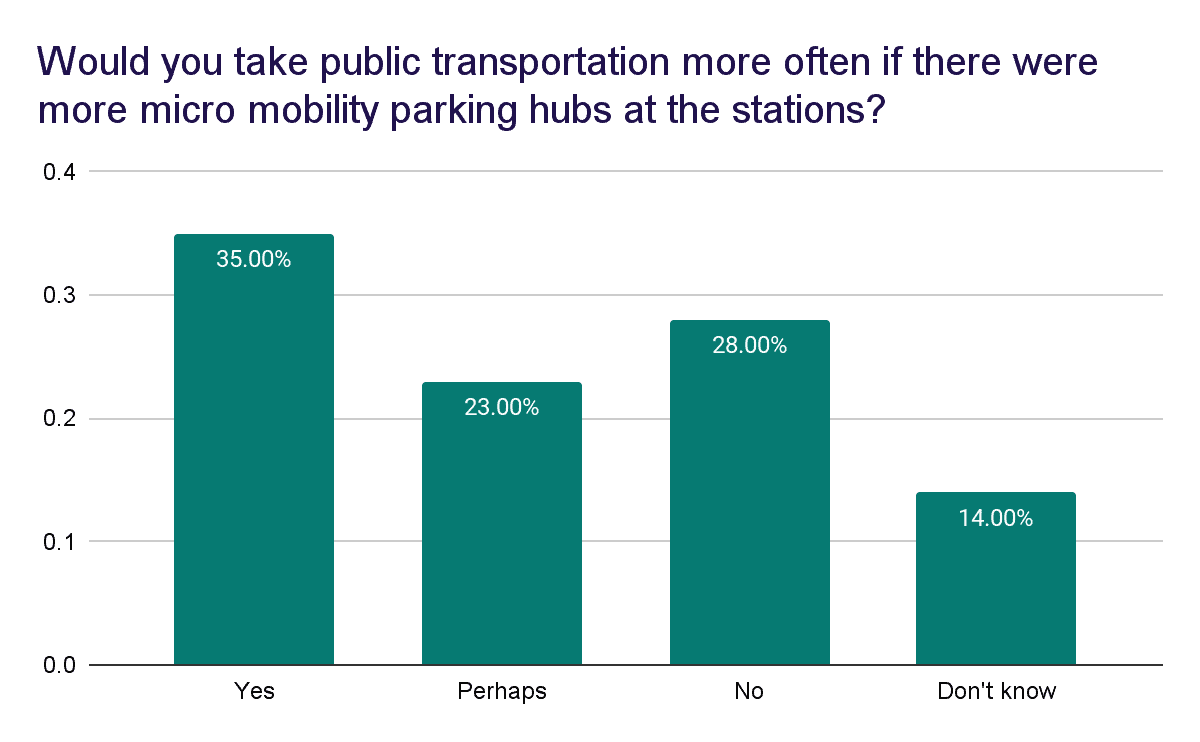 Third, we wanted to improve the customer experience and live up to our responsibility to take action against street clutter and mis-parked e-scooters by providing dedicated parking spaces.
Hypothesis 3: E-scooter riders appreciate more dedicated parking hubs for e-scooters as an improvement of user experience.
Dedicated and incentivised parking zones help maintain landscape aesthetics, prevent street clutter and increase pedestrian safety, especially for vulnerable groups (e.g. visually impaired people). When asked about factors that would improve the e-scooter experience, better parking facilities came second out of 11 factors, just behind a larger business area and ahead of more bike lanes. Close to 70% of respondents said that they appreciate more micro mobility parking facilities at train stations, validating our hypothesis. So far, more than 5% of all rides in the project areas end at bonus parking hubs, leading to orderly parking conditions.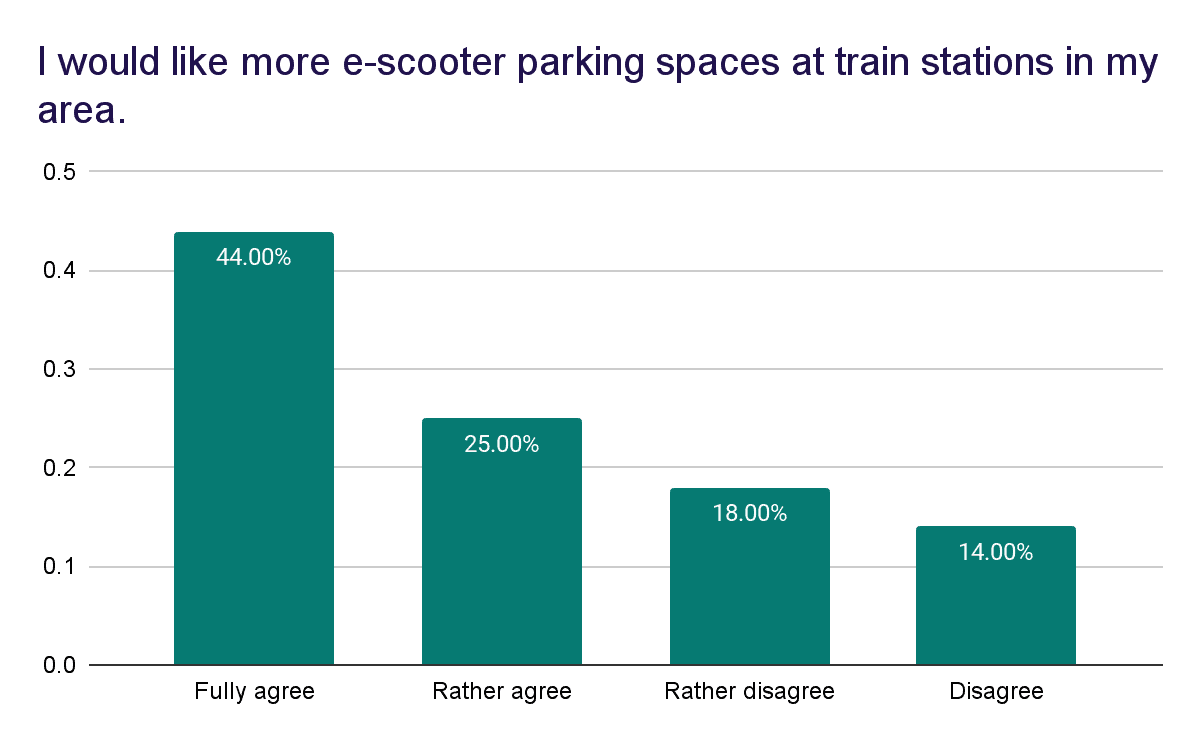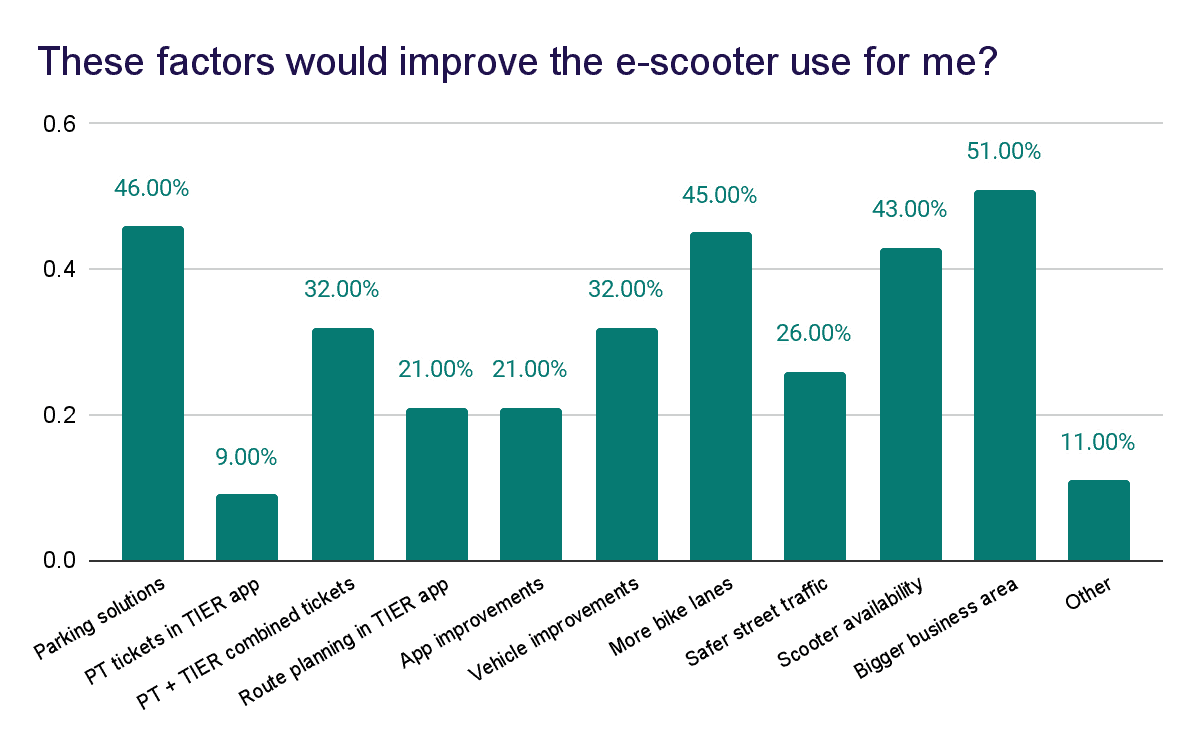 These first results encourage us to further develop parking solutions in close collaboration with public transport providers and cities. The importance of a holistic approach to urban mobility and working together on establishing infrastructure that supports the switch to sustainable transport modes can be proven by the results shown above.We cannot and do not want to change mobility for good alone. We rely on our partnerships with cities and public transport operators to achieve our vision of a multimodal and sustainable urban mobility. We are delighted to have such innovative partners in Hamburg with whom we can rethink urban transportation and reshape our cities'​ landscapes by offering easy-accessible and affordable mobility services. Together we want to create an attractive alternative to the private car and thereby reduce pollution and traffic congestion in cities.