What connects us makes us stronger
July 15, 2022
By Elsa Sophie Göritzer, Strategic Partnership Manager DACH at TIER Mobility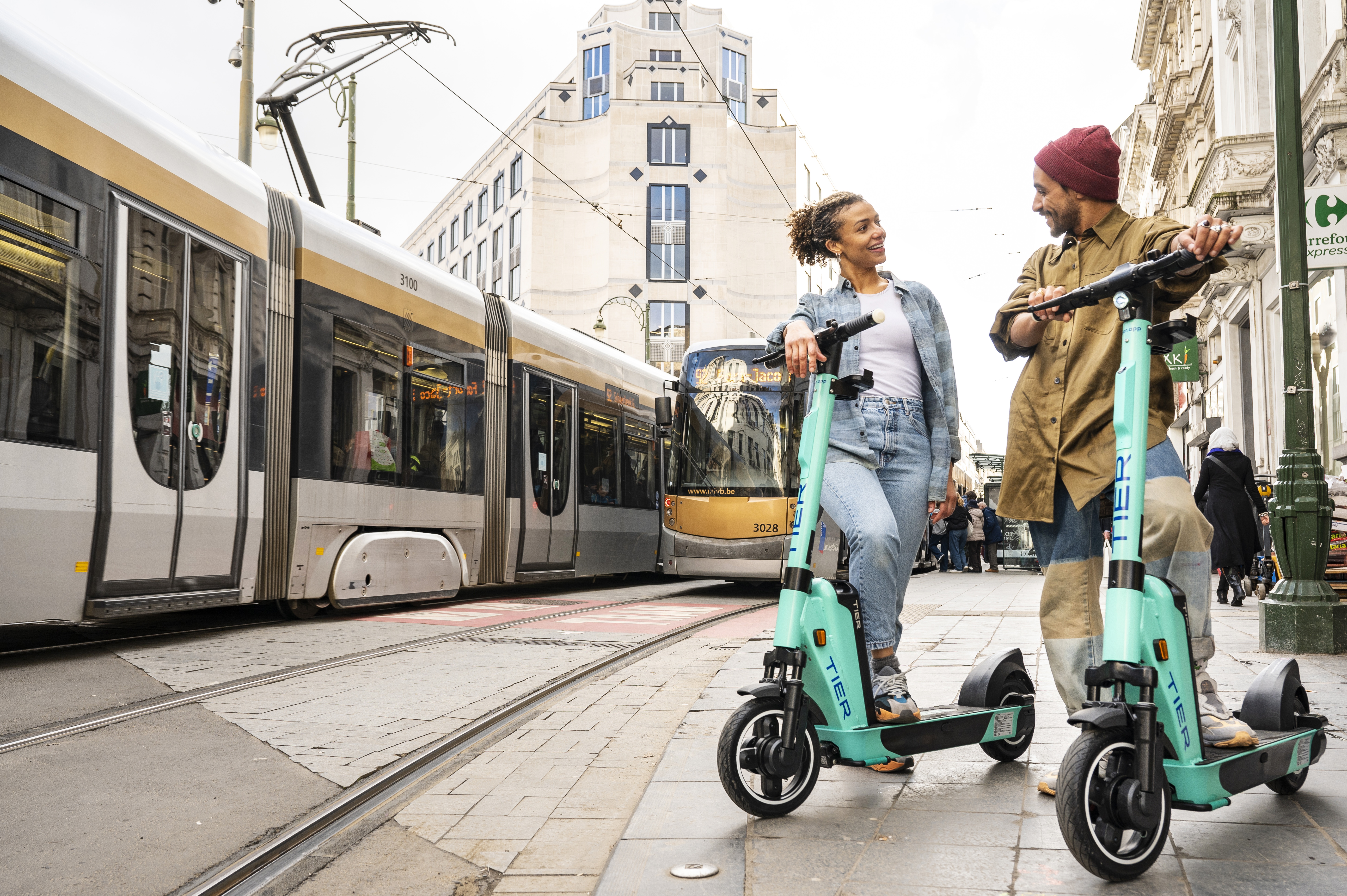 Elsa Sophie Göritzer, Strategic Partnership Manager DACH at TIER Mobility explores how large shared multimodal operators are embedding themselves deeply into public transport ecosystems to improve urban connectivity, while enhancing the use case for more sustainable travel.
When TIER was founded in 2019, we made it our goal to build partnerships with the local Public Transport Authority before launching a new city, making strong relationships with public transportation part of TIER's DNA. A key challenge facing cities is how to provide seamless, accessible and affordable mobility services to meet a broad range of needs. Working closely with cities ensures our offer can be increasingly tailored to deliver maximum benefits to urban residents.
Today TIER partners with over 50 organizations in public transportation to deliver what is increasingly a shared vision: to change mobility for good. In regular exchanges, we align on local projects, such as parking best practice, Mobility as a Service integrations, combined ticketing initiatives, marketing and education campaigns, urban safety events, and plugging research gaps. Our most recent pilot - TIER Connect - draws all this learning together into a package/platform that cities can easily and quickly benefit from.
The TIER Connect trial
TIER Connect, launched in Dortmund in 2021, incentivises both public transport use and greater multimodality by providing public transport subscribers with a 1€ discount when using a TIER vehicle as part of their journey.
In the first ten months of the TIER Connect pilot over 2.000 riders have participated, generating over 40.000 rides and saving 6.6 tons of CO2 compared to the same amount of car rides.
According to Stefan Ganslmayer, Communication and Information Lead at DSW21, Dortmund was able to explore a more positive relationship with their users by using TIER Connect: "DSW21 has decided to partner with TIER to complement our public transport offering with additional mobility services and to further develop a holistic mobility solution, tailored to the different needs of our customers."
Following on the success of this pilot in Dortmund, we launched TIER Connect in Münster, Mülheim, Essen in Germany; Lyon in France; and Basel in Switzerland with the respective Public Transport Authority of these cities: Dortmunder Stadtwerke (DSW21), Stadtwerke Münster (SWMS), Ruhrbahn, TCL and Tarifverbund Nordschweiz (TNW). When launching TIER Connect, both TIER and Public Transport Operators launched combined communications and marketing initiatives to inform customers about how urban and suburban commuters can shift to more sustainable modes of travel.
"With TIER Connect, we provide our customers with another building block to make their own mobility as flexible as possible and to respond to daily-changing mobility needs. The waived unlocking fee during the campaign period offered our existing customers an attractive reason to try out TIER's e-scooters for the 'last mile'." says Ute Jansen, Mobility Manager at Ruhrbahn.
Ruhrbahn, created in 2017 to better connect public transport networks in Essen and Mülheim, is part of a wider transformation within mobility towards greater cooperation. By further connecting sharedmobilty with public services, we support urban travelers in their daily journeys and serve our mission of increased multimodality and sustainability.
"In view of the urgent need for a change in transportation, it is in everyone's interest to bundle sustainable mobility offers. In this way, we can offer our customers and all those who want to become customers an attractive alternative to their own cars." says Jansen.
The sustainable intermodal opportunity for cities
Connecting public transport subscriptions with a discount on shared electric vehicles can enhance the perceived value subscriptions and support sustainable mobility strategies. In a cross-city survey1, conducted by TIER in November 2021, 84% of TIER Connect riders responding said that this benefit increases the attractiveness of public transport subscriptions.
"Our customers can choose between different mobility offers, according to their own needs and requirements. With TIER's mobility offers, we provide good supplements to our existing public transport services. These complementary mobility options increase the attractiveness of our services," says Ganslmayer, DSW21.
In order to shift the way we move long term to a more sustainable way, emitting less carbon dioxide and reducing car dependency, our partner in Münster incorporated TIER Connect into their short-term mobility strategy.

"Following our New Mobility Strategy 2030, we decided to connect our subscriptions with new mobility options to make public transportation more attractive. With TIER, we found a reliable partner with the same sustainability targets, eager to work on local solutions for our city." Florian Petrina, Product Manager Multimodal Mobility at Stadtwerke Münster
Solving last mile connectivity and incentivising shared and public transport use is key to discouraging modal shift towards private cars. Our partners' and customers' feedback, as well as quantitative research results show that TIER Connect fosters connectivity and encourages intermodal usage by offering a real door-to-door solution when combined with public transportation. In the same customer survey1, 86% of the responding TIER Connect riders said that they increased the intermodality of their trips through TIER Connect. Lyon, where almost half of TIER Connect usage started or ended next to public transport stations, highlights the opportunity for mutual benefit by better integrated more sustainable modes.
"Keolis Lyon, operator of the Lyon TCL network, is developing partnerships with active mobility players to ensure that the network is complementary and well-connected to TCL subscribers. TIER contributes perfectly to this complementarity and proposes an offer for TCL subscribers and users of the TCL loyalty programme. This partnership is part of our strategy of complementary travel to get from home to work or leisure with several alternative modes to the private car," says Frédéric Fournet, Head of Business Development and Loyalty at Keolis.
TIER is expanding TIER Connect to more cities, sharing the insights from this pilot to leverage the shift towards sustainable seamless mobility and to change mobility for good.
---
Elsa Sophie Göritzer is Strategic Partnership Manager DACH @ TIER Mobility, currently the largest multimodal micro-mobility operator globally in terms of number of cities and vehicles.