Lessons learned from Oslo: from Wild West to winning formula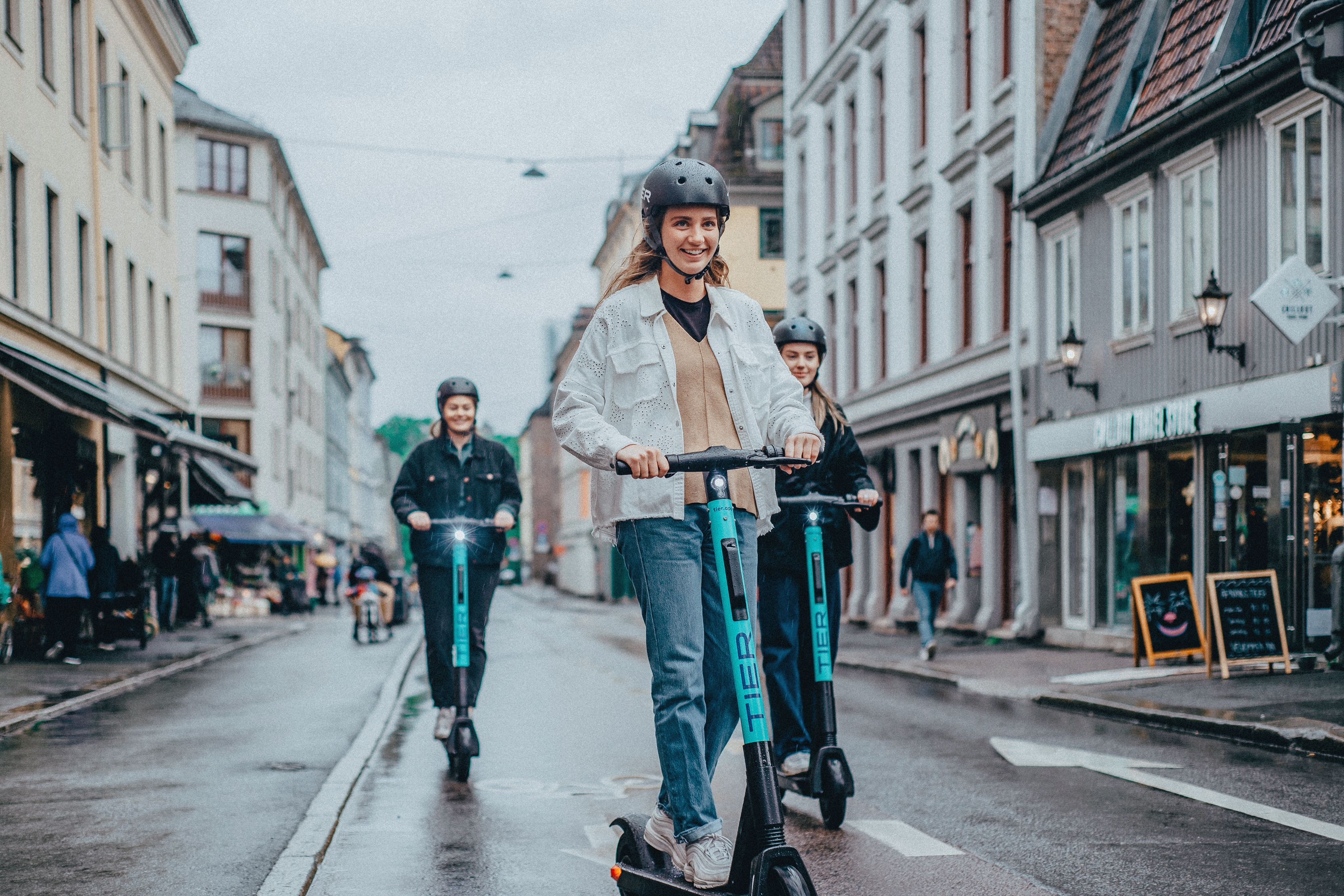 E-scooters are extremely popular in Norway. Out of a population of just over 700,000 in Oslo, TIER has 300,000 users, which means almost half of Oslo's residents have used a TIER. Oslo's centre is almost car-free which meant the city was particularly well-positioned for the introduction of e-mobility.
Across the whole of Norway, TIER has delivered more than two million trips for more than 450,000 unique users in 2021.
But, despite this embrace of e-scooters, it hasn't always been an easy ride. From an almost entirely unregulated market to tendered maturity, we outline our key lessons from entering and operating in the city:
From Wild West - to tender
In 2021, the city streets of Oslo were a Wild West of operators, with 12 rental companies functioning at the same time.
At one point, Oslo had more electric scooters per inhabitant than any other city in the world, with the region having 200 scooters per 10,000 residents. For comparison, Berlin, Paris and Rome had fewer than 50.
As part of a clamp down, the capital reduced the number of e-scooters available to rent in September 2021, dropping the number of vehicles from 30,000 to approximately 8,000. As a result, each operator was permitted to have just 667 scooters in use in the city. This led to frustration from users about the reduced availability of vehicles, but the city still had to deal with a multitude of operators. It showed that limiting the number of vehicles was not the solution.
Recognising that the fleet number cap did not solve the issues, and the city was still unsatisfied due to a lack of regulations, Oslo council decided to take it one step further by going to tender and only allowing the winning companies to operate in the city, based on qualitative criteria. The tender was awarded to TIER, Voi and Bolt, allowing us to each supply 2,667 vehicles from 1 April 2022 to 31 March 2023.
This new tender has enabled us to better communicate and collaborate with our fellow operators, helping us all to improve our discussions with key stakeholders, and share ideas on how best to integrate micro-mobility into Oslo's streets. And, in a city where demand is high, having three operators has also allowed for sufficient turnover, enabling us to invest in the quality of our offering and provide the city's residents with continually improving vehicles with updated safety features, including maximum stability and shock absorption.
From chaos to integration - how Oslo successfully regulated micro-mobility
However, limiting the number of operators could not solve every issue micro-mobility was facing when it came to integration.
With no regulations in place, there were few rules for e-scooter users. That means there were no restrictions about where an e-scooter could be left and vehicles could be parked in the middle of pathways or streets, a potential hazard for vulnerable pedestrians. There were no restrictions on the age of riders or drink-riding, which caused a rise in alcohol-related accidents.
To combat this, the Norwegian government, following a consultation with operators, put in place new rules and regulations. In June 2022, it was established that anyone old enough to have a driving licence would face the same drink-driving laws when using an e-scooter as they would if they were driving a car. No one under the age of 12 would be allowed to operate a scooter, with those under the age of 15 required to wear a helmet. Curfews were also announced, with rentals closed between 11pm and 5am.
Rental scooters would also have to be picked up and dropped off in designated areas. This includes the city's 'zoning map', which specifies the maximum number of units that can be available in each of four zones, including only 15% being available in the busy city centre. In exceptionally busy areas, reducing the number of e-scooters available can help keep both pedestrians and riders alike safe. If micro-mobility is to fully integrate into the urban transport mix, it must be safe for everyone - including those who may never even ride an e-scooter.
Oslo as a model for other cities
Oslo has served as a standard-bearer for the successful introduction of e-scooters in cities - from an unsteady beginning with lots of competition and uncertainty about how this could work to a regulated, popular mode of transport with operators and the local government working closely together.
Oslo is an excellent model for other cities looking to integrate micro-mobility into its transport system. A combination of a quality offering, combined with a regulated tendering process has improved the e-scooter presence in the city, helping residents and tourists alike to navigate the city in a simple, safe and sustainable way.