How we utilise partnerships to drive sustainable access to mobility
March 3, 2022
By Tinia Mühlfenzl, Director of Market Development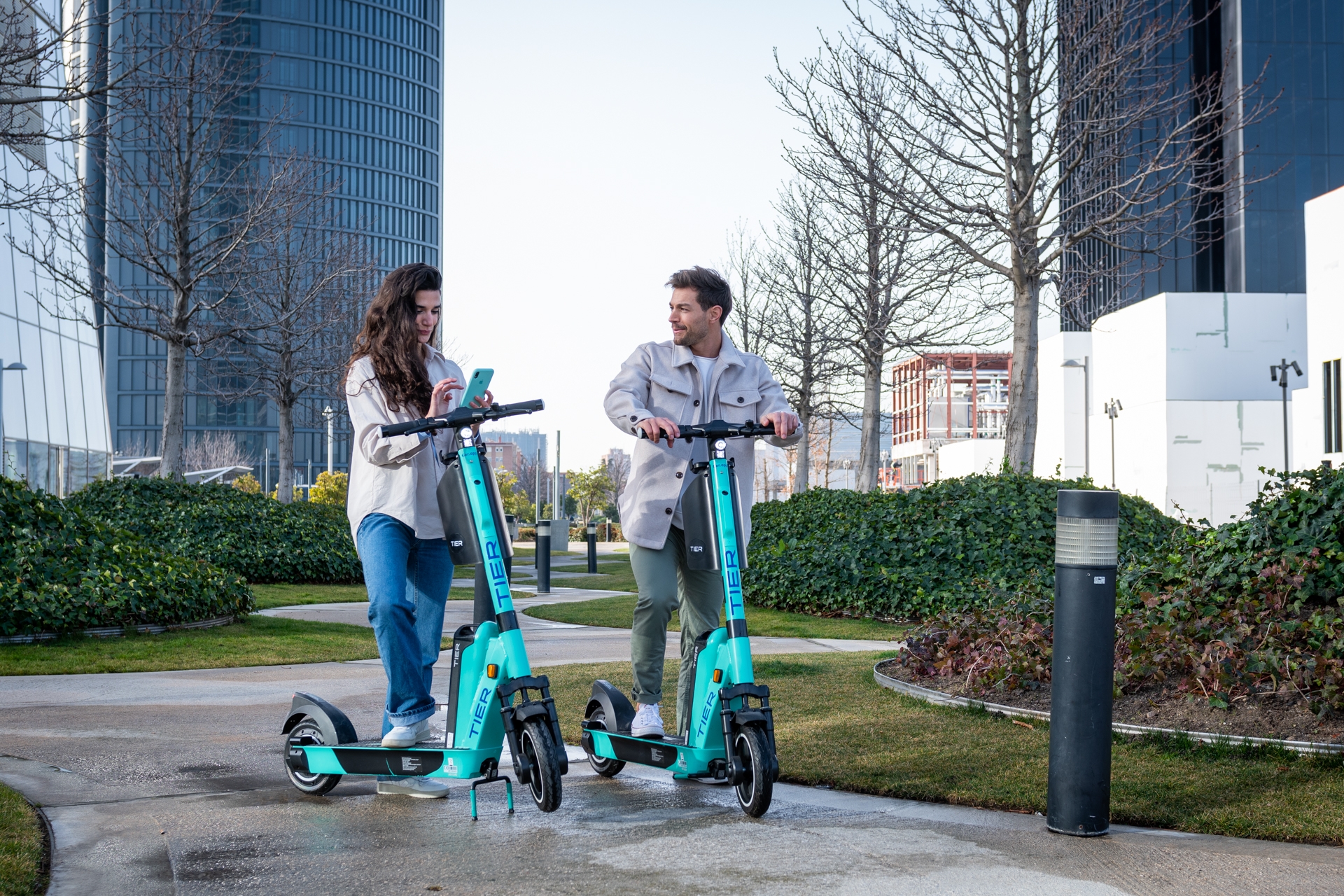 Tinia Mühlfenzl, Director of Market Development, on how we utilise mobility partnerships with the public and private sector to drive the United Nations Sustainable Development Goals 17 and 11.
Our mission at TIER to change mobility for good is one that no single organisation can achieve alone. This is due to how highly fragmented the mobility industry is, with minimal alignment and coordination between 3rd party mobility service providers. We can only make a lasting impact on the accessibility and sustainability of mobility, through building up a comprehensive and coordinated network of partnerships with governments, public transport authorities, civil society, and the private sector.
TIER recently adopted the United Nations Sustainable Development Goals (SDGs) as its sustainability framework. The SDGs are adopted by all UN member states, cities and companies around the world. These goals represent a shared blueprint of actions that governments and private organisations can commit to, to tackle global developmental challenges like climate change, quality education, and poverty. At TIER, we have selected five core goals to which we can directly contribute. Amongst our 5 SDGs lies the goal that my team and I directly work towards SDG 17: Strengthening global partnerships to achieve our goals.
Building partnerships to achieve our goals is not an end-goal in and of itself. It is a continuous journey of expanding our network of partnerships with social, private, and public entities. As Director of Market Development, it is my responsibility to accelerate this process by integrating our micro-mobility services into the existing ecosystem of mobility service providers. It is only collectively that we can enable a network of solutions that provide the most accessible and sustainable mobility service to all citizens.
Accessible Mobility Driven by Partnerships

TIER's long-term goal is to innovate the mobility sector by having a singular smart platform for mobility, in which all forms of transportation are sustainably and seamlessly accessible to everyone. This is a goal we work towards across all departments, each being able to create the highest value to different stakeholder groups including the individual municipalities, public transportation providers, as well as private citizens, and especially commuters (which take most of their urban routes twice). To have a positive impact on all of these stakeholder groups, we focus on ensuring accessibility through partnerships based on four factors:
Physical accessibility to ensure that our service is covering the first and last mile by being available in city centres as well as connecting outer regions into the existing public transportation system
Digital accessibility to provide on-demand access to whatever solution is most convenient to the user at a given moment
Financial accessibility by integrating our services in existing mobility formats that provide us with greater exposure and thereby enabling us to adapt pricing accordingly
Business accessibility by supporting employers to rethink their current way of business mobility through owned fleets, employee benefits, and mobility budgets' reducing reliance on company cars.
We expand our formats to all our Markets and Create instant Impact in the Mobility Mix

As our product is completely driven by our in-house technology platforms, we have total control over it. In turn, the playing-field of how we design each accessibility factor is massive and can be tailored to every partner's individual needs, while remaining able to extend it, if necessary, swiftly.
As of today, we have been able to achieve a variety of partnerships in Germany, and are beginning to expand all over Europe. We have begun this process, for example, with our most recent collaboration with Ruter in Norway, one of Europe's most advanced public transportation providers. Such formats will include joint memorandums with municipalities, mobility packages for corporate employees as well as deep integration of our rental services into the platforms of private and public mobility providers. Through deepening and broadening our partnerships across all markets, we can collectively begin changing the status quo of urban mobility.
Becoming a Reliable Partner during the Digitisation of Public Transport

A significant first step in our mission to change mobility for good has been the integration of TIER's services into other mobility platforms, especially public transportation. Contrary to many concerns, we as micro-mobility providers do not seek to substitute public transport, but to become an extended arm by complimenting current networks. Furthermore, in the long-run, micro-mobility providers will evolve as a reliable partner in digitisation. We are convinced that in collaboration with public transport providers, we can create an interdependent ecosystem that will change urban mobility for the better in four categories:
A 360° understanding of urban mobility: Public transport is the oldest form of shared mobility. This history makes it a source of extensive and established knowledge of mass-mobility. New players such as TIER, however, can provide very agile transportation services based on a data-driven approach. We can define optimised mobility patterns in real-time with a multitude of variables being considered, such as weather conditions, daytime and exact locations. Through this, we can contribute substantially to a holistic understanding of the individual urban mobility patterns, accelerating customer-centric transportation services.
Data-driven improvements to transportation networks: Building on a better understanding of mobility patterns through our data, we are enabled to support public transport providers with the necessary information to identify gaps in the current network infrastructure. This serves as the foundation of improving accessibility to public mobility services and creates a more sustainable transportation ecosystem.
Improving the economic accessibility of urban mobility: Through partnerships, we can improve the economic accessibility of mobility. For example, in less densely populated areas, mobility demand is high but is also more costly. This results in higher prices with less connectivity. Partnering up with micro-mobility providers allows public transportation to offer cost-efficient alternatives to its customers while simultaneously extending its reach to previously underserved areas and communities.
Moving to more sustainable mobility: In all of the points mentioned above, we see the potential of contributing massively to a more cost-efficient and accessible public transportation system. By supporting cost-efficiency, we reduce the boundaries for citizens to shift from private and carbon-emitting cars to alternative, public mobility solutions. This accelerates our overall goal of making mobility more environmentally and socially sustainable.
Establishing Joint Mobility Frameworks to Ease Integration

Aside from public transportation providers, collaboration with municipalities is vital in pursuing SDG 17, which is why we have a particular focus on this in each city we are actively operating.
This is not limited to merely negotiating deals to launch our products, but to have a truly sustainable, safe and positive impact. Our commitment to municipal collaboration has been underlined by TIER's latest joint statement with the German City Council and the German Association of Towns and Municipalities. Here - together with public representatives - we defined an eight-point framework on the integration of scooters focusing on achieving the highest levels of accessibility and safety. Joint memorandums are also a solid foundation to ensure the ongoing dialogue between private providers and public institutions, which are vital in pursuing our mission to change mobility for good.
I believe that, because mobility is a necessity for every citizen, partnerships are the only way forward in truly achieving our goal to change mobility for good. We have learnt that every mobility player obtains a unique set of knowledge which - if brought together - truly creates a chance to build accessible and sustainable urban transportation infrastructures.
The most significant potential for TIER lies in defining ourselves as a technology company in addition to being a mobility provider: We are capable of gathering and sharing a data-driven understanding of urban mobility, which - is activated through partnerships - will be the driving force in our shift towards sustainable mass-transportation.
About the UN Sustainable Development Goals:
TIER's mission is to #changemobilityforgood. To achieve this, we will contribute to building sustainable cities and communities through spearheading innovations that enable a resilient and sustainable mobility infrastructure, through promoting inclusive and sustainable mobility in cities, and through partnering with all relevant stakeholders to achieve the goals we have set ourselves. In pursuit of a more sustainable and better tomorrow, we are committed to working towards the UN Sustainable Development Goals to make mobility in cities sustainable, safe and inclusive for all. Find out more on the UN SDGs on their official website.
For a glimpse into how TIER plans to contribute to SDGs 9 and 11 through our tech platform, you can read our CTO and co-founder, Matthias Laug's thought piece here.