The Game-Changing Leap Towards Sustainable Micro-Mobility
November 1, 2021
By Andreas Weinberger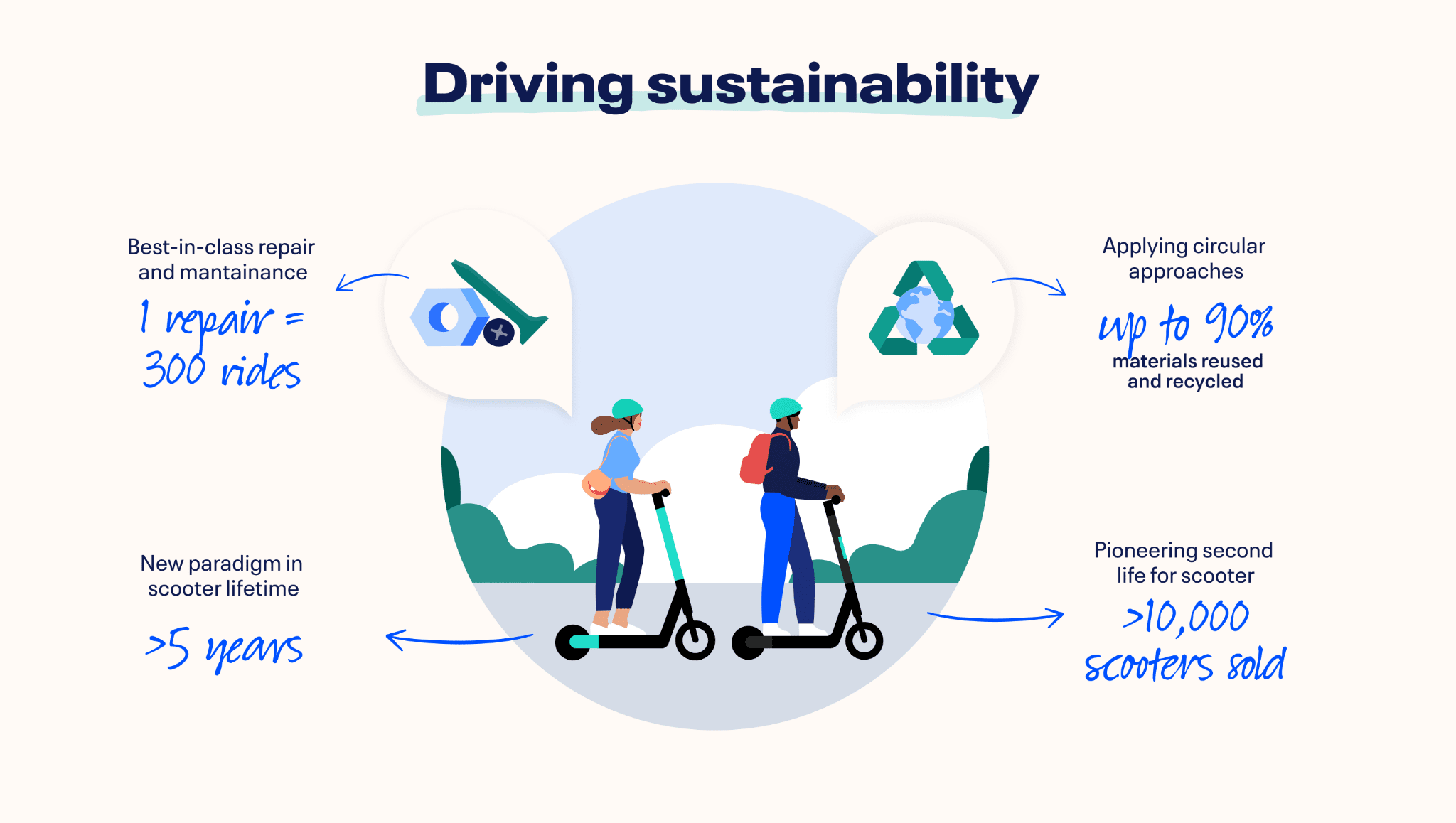 Vice President of Operations, Andreas Weinberger, on how TIER Mobility is transforming operations with a revolutionary scooter model that is based on swappable batteries and how this contributes to the United Nations Sustainable Development Goals 12 & 13
The eScooter market is taking Europe by storm. Rarely does an industry emerge as rapidly and with such potential for disruption as what eScooters are doing in urban mobility. Yet, the potential of shared micro-mobility has hardly scratched the surface. Micro-mobility's potential is to facilitate the movement of people in the first and last mile, to increase accessibility and affordability of mobility, to complement public transportation and to incentivise people to use a mixture of on-demand mobility services rather than owning and using cars. Through this combination, we can steer the mobility sector to a more sustainable future.
When the shared scooter industry emerged, all players began operations with an off-the-shelf scooter model, which was criticised for its short lifespan that resulted in a higher carbon footprint. Thanks to our focus on maintenance & repairs at TIER, we have been able to achieve an average lifespan of several times that of the industry norm for this model. Our focus on maintenance and repairs has been so effective that we still have part of our originally launched fleet in operations - with the first scooter ever launched still running safely and smoothly in Vienna after approximately 12 months. However, the average lifespan of these scooters is still too costly for the environment, unit economics, and sustainable growth.
To tackle these problems, we designed and custom-built our first TIER scooter models in partnership with OKAI. These models are built for durability, resistance and thus a much longer lifespan. Through this, we have directly addressed the sustainability of our scooter models. As of today, these models have been on the streets across Europe for more than 6 months and evidence shows that their average lifespan is forecasted to be at least 24 months.
Now it is time for TIER to begin the next phase, our operations model revolution, as we lead the market towards sustainable micro-mobility. This phase is the game-changing shift towards sustainable operations based on our state-of-the-art swappable battery scooter model. This shift will have a substantial impact on reducing our carbon footprint and lead us towards our goal of carbon neutrality in 2020.
The market-leading swappable battery scooter model – the benchmark in sustainable operations
The move to swappable battery scooters has far-reaching implications for the sustainability of our operations. This is primarily due to being able to charge, conduct minor maintenance, and do safety checks while scooters are on the streets - instead of collecting and transporting scooters to and from a central warehouse for charging and maintenance. This all leads to the three major impacts of the new operations model:
Reducing carbon emissions: As we move our eScooter fleet to swappable battery models, we will simultaneously adjust our operations to reduce the reliance on vans for collection and redistribution. The majority of the vans, which are currently used for collecting scooters for charging, will be replaced by e-Cargo bikes. The e-Cargo bikes will be used to transport and swap batteries, throughout the day. The remaining vans, which are used to rebalance a portion of the fleet across the business area, will be progressively converted into an electric vehicle fleet. With the use of e-cargo bikes paired with an electric vehicle fleet, we expect to eliminate nearly all carbon emissions of our daily operations.
Reducing space and electricity consumption: We eliminate the need for large warehouses as we no longer need to store entire scooter fleets for charging. The warehouse-size will now be determined by the space needed for the charging of batteries and repairing any potentially damaged scooters. As such, our warehouse space will reduce substantially. By reducing the need for large warehouses, we also reduce our consumption of electricity for heating, cooling, and lighting.
Extending product lifetime: Our dedicated Maintenance & Repair teams repair our fleet on-demand on a daily base. In addition to the ordered spare parts, we use every part of decommissioned scooters to replace broken parts. All materials used in the manufacturing of our scooters are recyclable, and the parts that cannot be used to repair other scooters will be disposed according to the national recycling schemes. For our batteries, we explore second life options before they are appropriately recycled. Gradually we will substitute our full fleet with the new scooter model with swappable batteries. But instead of recycling our old fleet, we refurbish the current scooters, sell them and by that give the full scooter a second life. Collectively, this shows that we feel responsible for our scooters and treat them with the necessary respect that values the materials and work that was put into creating this product.
According to the study by North Carolina State University, around 43% of a scooter's carbon footprint stems from the daily operations, including collection and redistribution over the course of the scooter's lifetime. As stated in the article of our CEO, Lawrence Leuschner, we are already operating with a lower footprint than assumed in this study. Furthermore, we are currently undergoing our first annual carbon footprint assessment in partnership with Climate Partner. This will give us the opportunity to not only analyze the biggest emitting factors but also act accordingly to reduce our carbon footprint.
As we take the leap towards swappable batteries, we are also taking the next big step in contributing to the United National Sustainable Development Goals. In particular, SDG 12 — Responsible Consumption and Production and SDG 13 — Climate Action. The implications of a swappable battery model is not only game-changing for TIER. It is a significant step towards environmental sustainability in the micro-mobility industry, and we will continue to innovate, to lead both our business and the mobility industry towards a more sustainable future.
About the UN Sustainable Development Goals:
TIER's mission is to #changemobilityforgood. To achieve this, we will contribute to building sustainable cities and communities through spearheading innovations that enable a resilient and sustainable mobility infrastructure, through promoting inclusive and sustainable mobility in cities, and through partnering with all relevant stakeholders to achieve the goals we have set ourselves. In pursuit of a more sustainable and better tomorrow, we are committed to working towards the UN Sustainable Development Goals to make mobility in cities sustainable, safe and inclusive for all. Find out more on the UN SDGs on their official website.
Read more on our blog or visit our Medium account. For further inquiries or questions please contact our press department at press@tier.app