How we use technology to drive sustainable and inclusive mobility
September 12, 2019
By Matthias Laug, CTO, on how working towards the UN Sustainable Development Goals 9 and 11 looks like at TIER Mobility.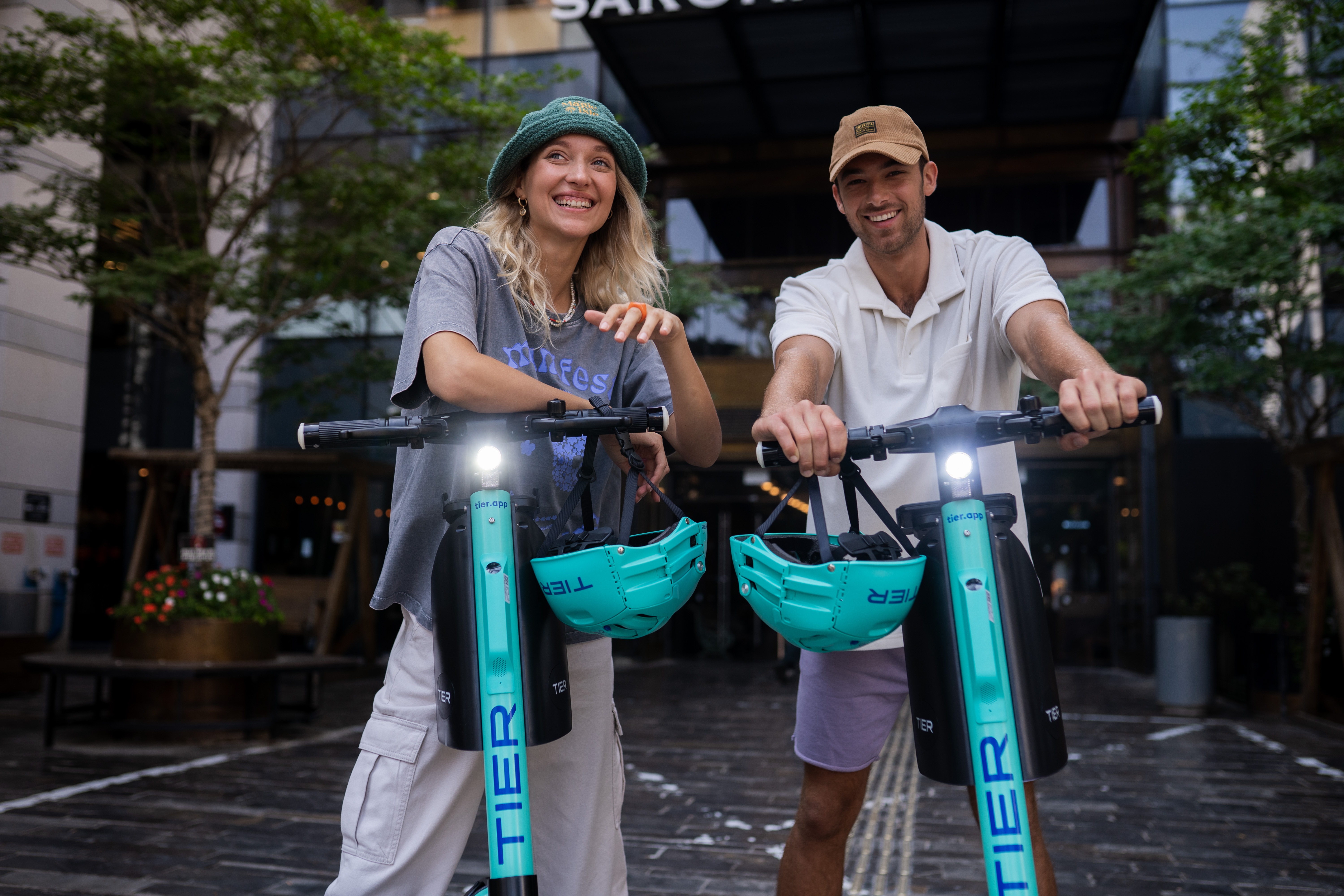 Changing Mobility for Good
According to the UN, almost 25% of energy-related green-house gas emissions come from the transportation sector. This makes it the single most impactful contributor to air pollution in European cities. As the number of people living in urban areas is increasing worldwide, its landscape is experiencing an unprecedented acceleration in demand for mobility solutions. This comes at a time when private cars still make up approximately 65% of urban rides, because of the lack of alternatives. Furthermore, those rides are often less than 6 miles in distance and the individual car itself stays heavily underutilised, while streets are congested and desperately required urban space is being taken up for parking. It is clear that we need to establish an urban transportation infrastructure that is capable of providing sustainable, accessible and connected mobility that serves all citizens.
My co-founders Lawrence Leuschner, Julian Blessin, and I have the vision of tackling precisely this challenge of empowering all those who live in cities to have the freedom to move in a frictionless, sustainable, and inclusive way. For this reason, we have adopted the founder's mission of changing mobility for good. As the next step in our commitment to this mission, and the company's commitment to sustainability as a core value, TIER has adopted the United Nations Sustainable Development Goals (SDGs) as its sustainability framework.
As CTO, I approach these challenges from a technological perspective: what can we build to drive sustainability - today and in the future? I see TIER's proprietary tech platform - developed internally from end-to-end - as a tool that can contribute substantially to achieving the SDGs.
Through this platform, we ensure that our tech and decisions define TIER's abilities. The power of owning our data and the flexibility of adapting our solutions to meet changing needs has been key to our market-leading operational excellence. The potential of this tech platform extends beyond our core business to also benefit society, the mobility industry, and urban transportation as a whole. We're proud that this aligns with the SDGs 9 and 11 as we are continuously setting the benchmark for innovation in the mobility industry, thus contributing to the technological infrastructure for sustainable cities and communities.
In the tech team, we are focusing on how to leverage the potential of our platform not only for TIER's development as a micro-mobility provider, but to also be at the vanguard of tech-driven sustainable mobility.
Tech-driven sustainable mobility
1. Data-driven sustainable mobility: Cities need to take a 360 degree data-driven approach to urban planning. We are building a comprehensive pool of mobility data from our own fleet and it usage. By providing cities with access to such a comprehensive ecosystem of mobility information, we will enable them to design their transport networks to best connect and serve citizens in an optimally sustainable way. Access to such data means that transport networks can be designed to optimise rural-urban connections which, according to the UN, has a proven positive impact on economic development. Through this, we can contribute to the provision of on-demand sustainable transport alternatives which will reduce the reliance on privately owned cars.
2. Provide SMEs with on-demand mobility: Sustainable mobility is not limited to individual users. The potential of our scalable and flexible platform means that we can serve small and medium enterprises in cities, too. SMEs often have irregular transportation needs and lack the capital to invest in own fleets. The needs of many of these businesses fluctuate according to season, weather, time of day, market dynamics, and other external factors. Through providing on demand access to mobility services for SMEs, we contribute positively to economic development, support entrepreneurship and remove the hurdle that investing in owned or rented transport, as well as expensive messenger services can have on business growth and economic development.
3. Accessible mobility for everyone: I believe in the saying that innovations are only revolutionary if they are accessible for everyone. My team and I thrive on developing cutting-edge solutions for the mobility industry, driven by this need to make mobility accessible to all. There are three first steps that need to be taken, to begin achieving this mission. First, by providing a platform that allows for a seamless integration of all forms of transport, to ensure citizens have access to the right form of mobility to meet their needs, at the right time, and in the most convenient place. TIER's platform is currently market-leading in terms of integration capabilities, proven by our growing network of public transport and third party mobility provider integrations. We will continue to expand our integrations in all markets that we operate in, to expand the positive impact such integrations have on urban mobility. Secondly, we are innovating to reduce friction between the user and their desired mode of transport. By reducing friction, we can make mobility more seamless, less time consuming, and enable people to get from their desired A to B as quickly and efficiently as possible. To achieve this, we need to think beyond the mobile phone as an interface and explore more seamless integrations to grant access to any kind of mobility.
Lastly, we need to strive to make micro-mobility financially accessible for everyone. The industry's pricing model is currently based on demand and is similar across markets. However, the sensitivity to pricing differs across cities, countries, regions, and sectors of society. Through technology we can streamline our operations to achieve both high profitability and high cost efficiency. By driving TIER to operate at the highest levels of cost efficiency, we create the possibility of adjusting pricing not only based on demand but also on GDP per capita, price sensitivity, and other socio-economic factors. Through this tech-driven process, we can create localised and tailored pricing models that ensure our services are economically competitive and financially accessible to all who can benefit from them, in all markets that we operate in.
Through initiatives such as these we can begin the journey of making mobility accessible and inclusive for everyone. However, I am fully aware that there is still a long road ahead of us and that these initiatives are only a few aspects that we can contribute to, to change mobility for good. I believe that technology is an essential driving force for positive change in sustainable urban mobility as it feeds into improving the flow of people in cities and will pave the path to sustainable and accessible mobility for all.
About the UN Sustainable Development Goals:
TIER's mission is to #changemobilityforgood. To achieve this, we will contribute to building sustainable cities and communities through spearheading innovations that enable a resilient and sustainable mobility infrastructure, through promoting inclusive and sustainable mobility in cities, and through partnering with all relevant stakeholders to achieve the goals we have set ourselves. In pursuit of a more sustainable and better tomorrow, we are committed to working towards the UN Sustainable Development Goals with the intention of making mobility in cities sustainable, safe and inclusive for all. Find out more on the UN SDGs on their official website: https://www.un.org/sustainabledevelopment/sustainable-development-goals/