Explore sustainable mobility this summer, with TIER and N26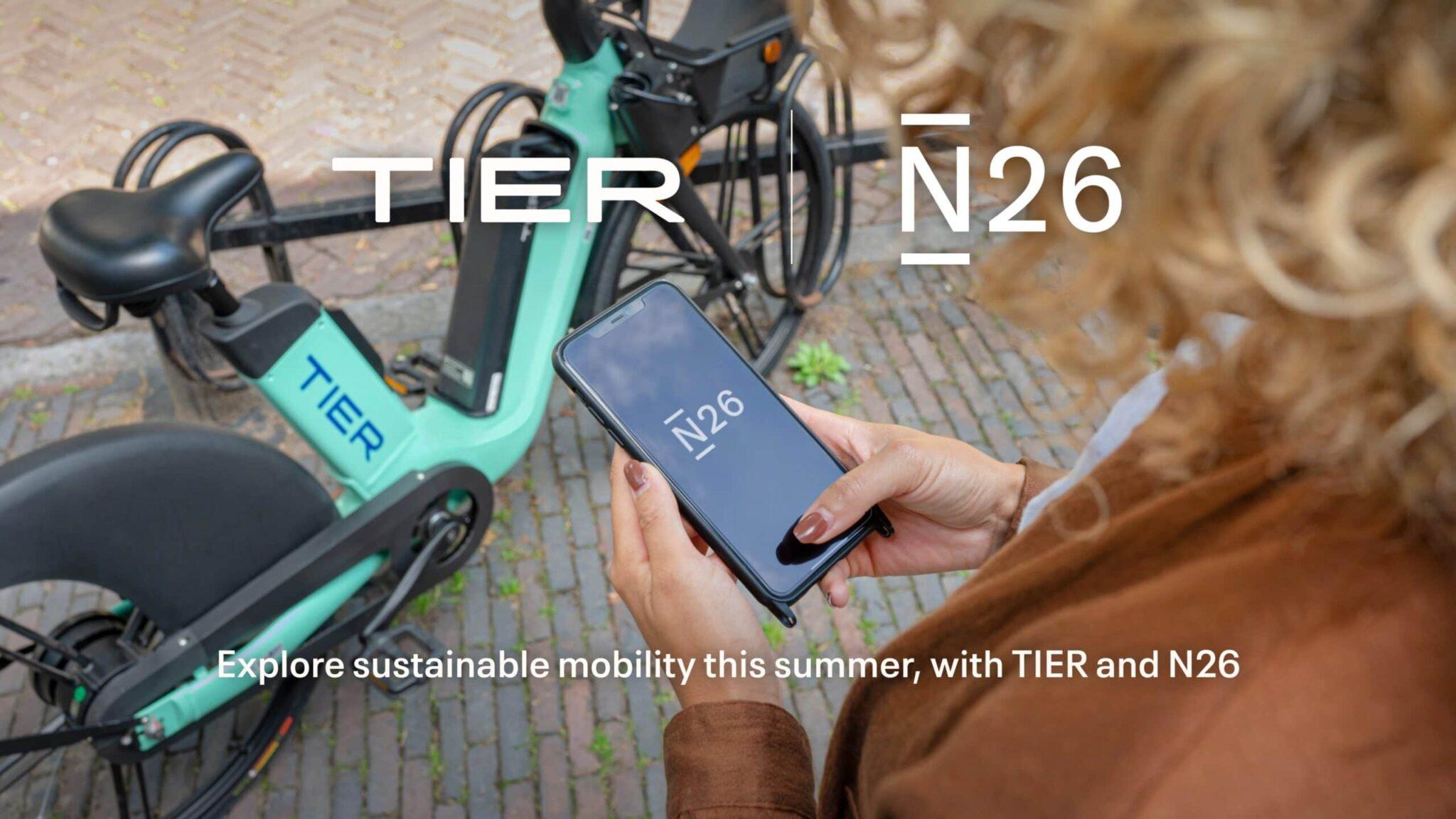 Micro-mobility provider TIER and the Mobile Bank N26 are teaming up to offer customers easy access to mobility solutions in cities and suburbs.
From May through July, N26 account holders in Germany, Italy, France and Austria will benefit from a discounted offer that makes TIER's shared electric vehicles available at a reduced price.
Berlin, 3 May, 2022 — TIER Mobility (TIER), the world's leading shared micro-mobility provider and the digital banking pioneer N26 have today announced a strategic partnership that will make access to TIER's fleet of shared electric vehicles more affordable for urban citizens and travelers: From 1 May to 31 July 2022, right in time for the sunny season and the holidays, TIER will offer N26 customers in Deutschland, Österreich, Italienand Frankreich an exclusive discount for rides on its e-scooters, e-bikes and e-mopeds.
"Our mission to Change Mobility for Good is largely about creating strong partnerships to expand everyone's access to sustainable, easily accessible and multimodal mobility solutions. Teaming up with the digital banking pioneer N26 will grow our impact and allow us to expand access to our micro-mobility services in Germany, Austria, France and Italy", says Matthias Tepel, Chief Commercial Officer at TIER.
"At N26, we want to give our customers the freedom to live and bank their way. In addition to making everyday money management beautifully simple, we offer exciting partnerships that fit their lifestyle. The partnership with TIER will allow our customers to try out new ways to explore interesting places this summer and get from A to B more conveniently, and sustainably", says Alexander Weber, Chief Growth Officer at N26.
The two Berlin-based companies share a common vision of challenging their respective industries by providing flexible and easily accessible services. The partnership will offer yet another way to address the growing demand for sustainable and accessible mobility in urban and suburban areas.
With this partnership, N26 Standard account holders will benefit from 10% off their next 3 TIER rides, while N26 Smart, You and Metal customers will benefit from 20% off their next 3 rides. To access the offer, customers will just need to go to the Explore tab of their N26 app and click on the TIER icon within the Partner Offers section to access their discount codes.
+++ENDS+++
ABOUT TIER Mobility
TIER Mobility is Europe's leading shared micro-mobility provider, with a mission to Change Mobility for Good. By providing people with a range of shared, light electric vehicles, from e-scooters to e-bikes and e-mopeds, powered by a proprietary Energy Network, TIER helps cities reduce their dependence on cars. Founded in 2018 by Lawrence Leuschner, Matthias Laug and Julian Blessin, TIER is headquartered in Berlin and currently operates in 250+ cities across 22 countries in Europe and the Middle East. With a focus on providing the safest, most equitable and most sustainable mobility solution, TIER has been climate neutral since 2020.
TIER's investors include SoftBank Vision Fund 2, Mubadala Capital, Northzone, Goodwater Capital and White Star Capital. For more information, visit www.tier.app.