TIER appoints independent Nordic Safety Board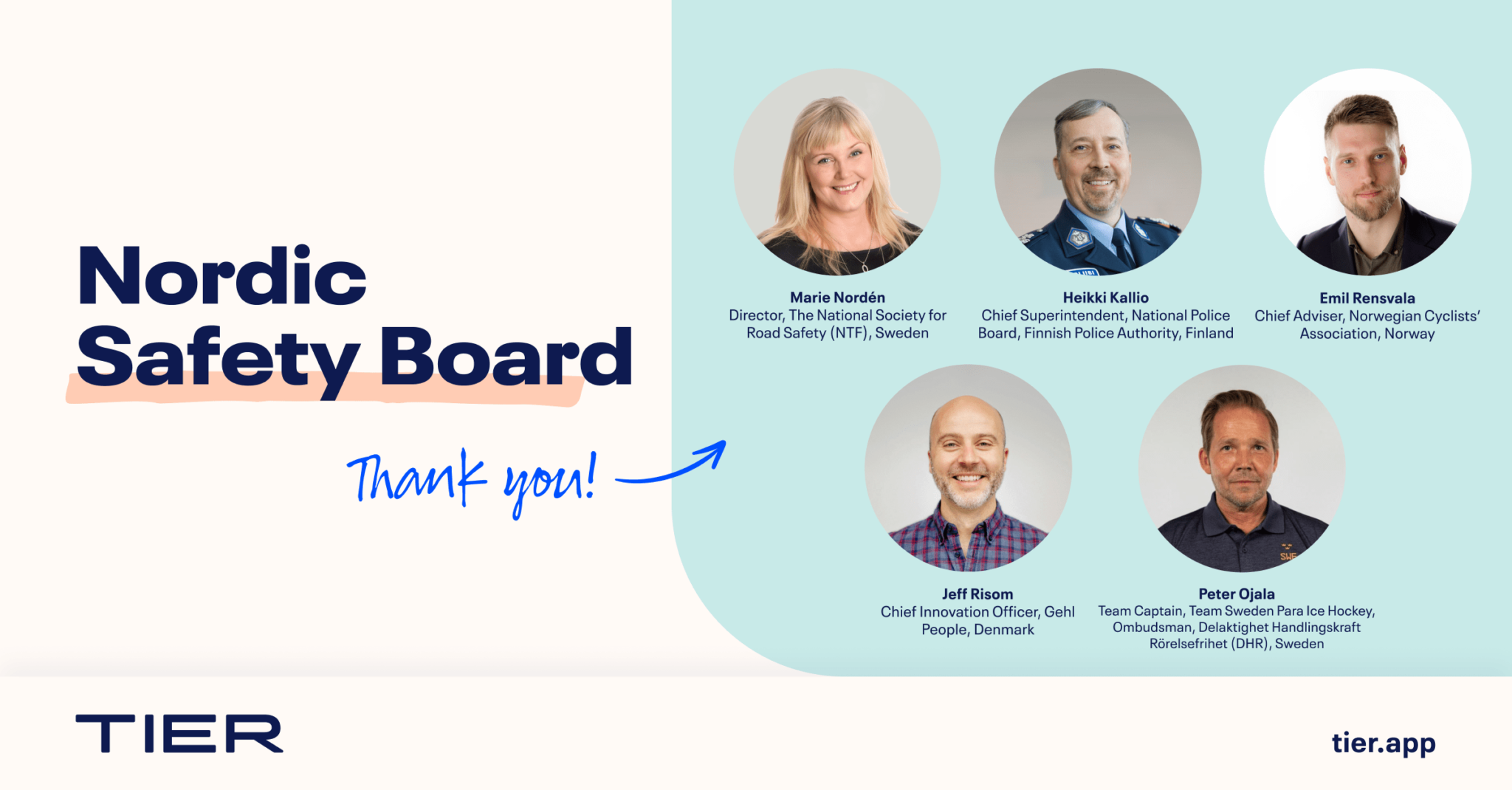 Tuesday 22nd February, Stockholm – Leading voices representing road safety, urban development and accessibility have joined the TIER Nordic Safety Board as Europe's largest e-scooter operator seeks to raise micro-mobility safety standards across the region.
"For the e-scooter sector to reach its potential, it needs to take safety very seriously. Paying lip service isn't enough. If we want to create the safest possible environment for e-scooter riders and pedestrians, we must listen to the concerns and advice of experts and vulnerable groups, and use this to shape policy and design.
"No operator has all the answers and so TIER is inviting scrutiny from those who really get it. We believe that the new Nordics Safety Board of independent advisors can make a positive and long-lasting difference to the e-scooter sector in the Nordics, and we are excited to get started on this work." Lukas Samuelsson, General Manager Nordics, TIER Mobility.
Representatives from the Delaktighet Handlingskraft Rörelsefrihet (DHR) in Sweden, Norwegian Cyclists' Association in Norway, the National Society for Road Safety in Sweden, Gehl People based in Denmark and the Finnish Police Authority are among the senior independent experts in road safety, urban development, accessibility and transport economics who will be represented on the Board.
The Board, which will be chaired by TIER Nordics General Manager, Lukas Samuelsson, will meet quarterly to scrutinise TIER's approach to safety and responsible operations. Alongside this, the Board will explore best safety and inclusion practices from other sectors, and advocate for new, industry-wide safety measures to ensure that e-scooters are incorporated into each market's transport mix smoothly and safely.
Sitting on the board will be:
Heikki Kallio, Chief Superintendent, National Police Board, Finnish Police Authority, Finland
Marie Nordén, Director, The National Society for Road Safety (NTF), Schweden
Emil Rensvala, Chief Adviser, Norwegian Cyclists' Association, Norwegen
Peter Ojala, Team Captain, Team Sweden Para Ice Hockey, Ombudsman, Delaktighet Handlingskraft Rörelsefrihet (DHR), Schweden
Jeff Risom, Partner, Chief Innovation Officer, Gehl People, Dänemark
+++ENDS+++
ABOUT TIER Mobility
TIER Mobility is Europe's leading shared micro-mobility provider, with a mission to Change Mobility for Good. By providing people with a range of shared, light electric vehicles, from e-scooters to e-bikes and e-mopeds, powered by a proprietary Energy Network, TIER helps cities reduce their dependence on cars. Founded in 2018 by Lawrence Leuschner, Matthias Laug and Julian Blessin, TIER is headquartered in Berlin and currently operates in 250+ cities across 22 countries in Europe and the Middle East. With a focus on providing the safest, most equitable and most sustainable mobility solution, TIER has been climate neutral since 2020.
TIER's investors include SoftBank Vision Fund 2, Mubadala Capital, Northzone, Goodwater Capital and White Star Capital. For more information, visit www.tier.app.