The 7 myths about e-scooters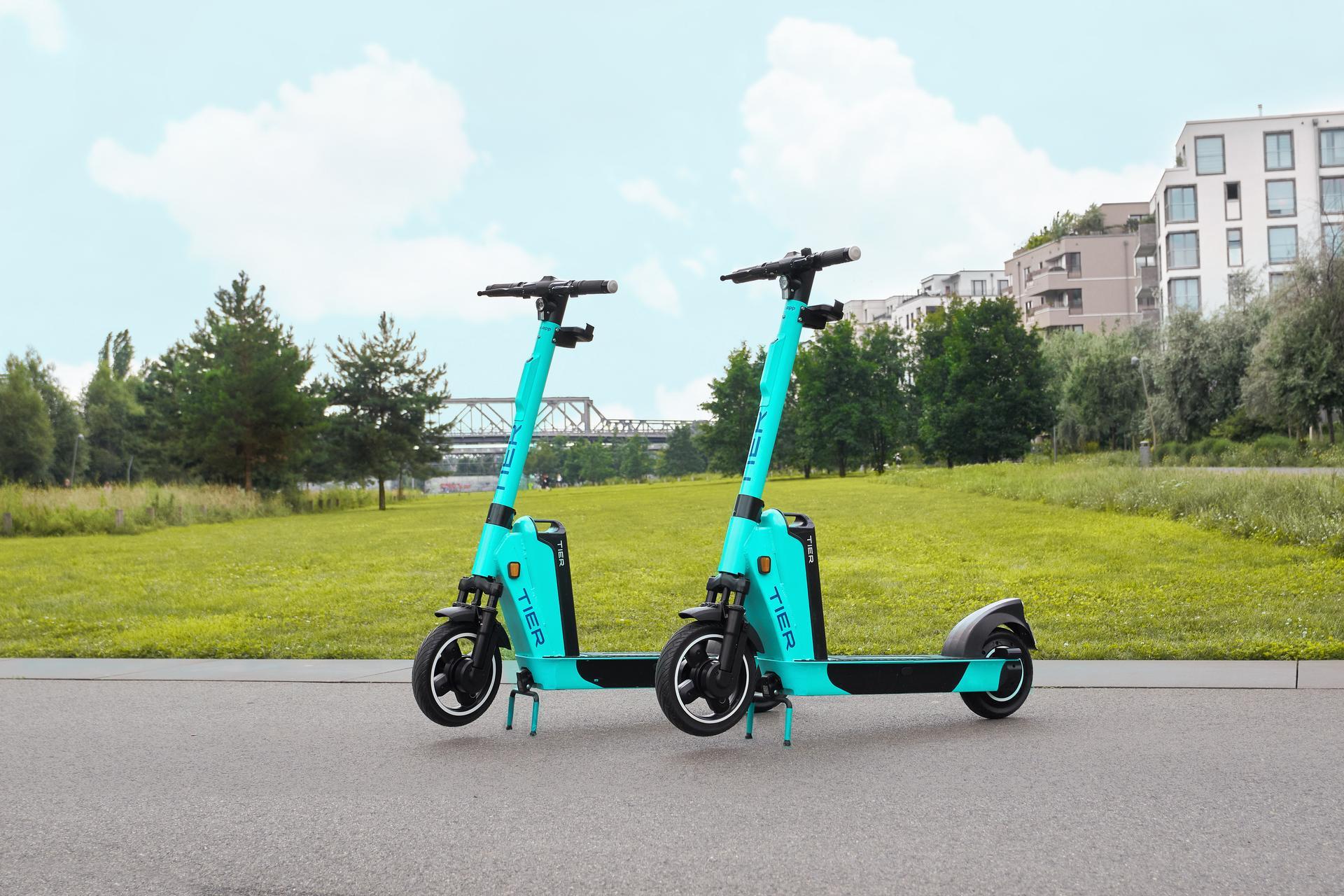 E-scooters are currently being discussed more heatedly as hardly any other topic. Unfortunately, we see that a great deal of the public discourse is focusing on certain 'facts' that either represent only a small portion of the truth or are even wrong.
We are at the beginning of a turn in the mobility sector in which TIER, in particular, has set itself the goal of sustainably changing urban mobility for good. As part of this mission, we must counter myths surrounding the micro-mobility industry with sober arguments in order to successfully deal with the many misconceptions about e-scooters.
1st MYTH: E-SCOOTERS LAST ONLY 28 DAYS
FACT:​ The claim that a general and definitive product lifetime applies to e-scooters is false. All depends on the quality of the product as well as on the maintenance and repair processes of the respective provider. First-generation scooters in the US that were not designed for rental, were often insufficiently maintained and therefore did not last very long. From the very beginning, TIER has tackled the issue of life expectancy and we can successfully claim that since the second generation of its scooters, all individual parts are replaceable. We have such highly professionalized and frequent maintenance and repair cycles, that scooters hardly ever have to be taken out of service due to technical defects. It is for this reason that we calculate a life span of 5 years for current generation TIER e-scooters. If the e-scooters are removed from our sharing service, they can still be sold in the B2B or B2C area after a refurbishment and used for a further - especially in the B2C area, probably even longer - period of time.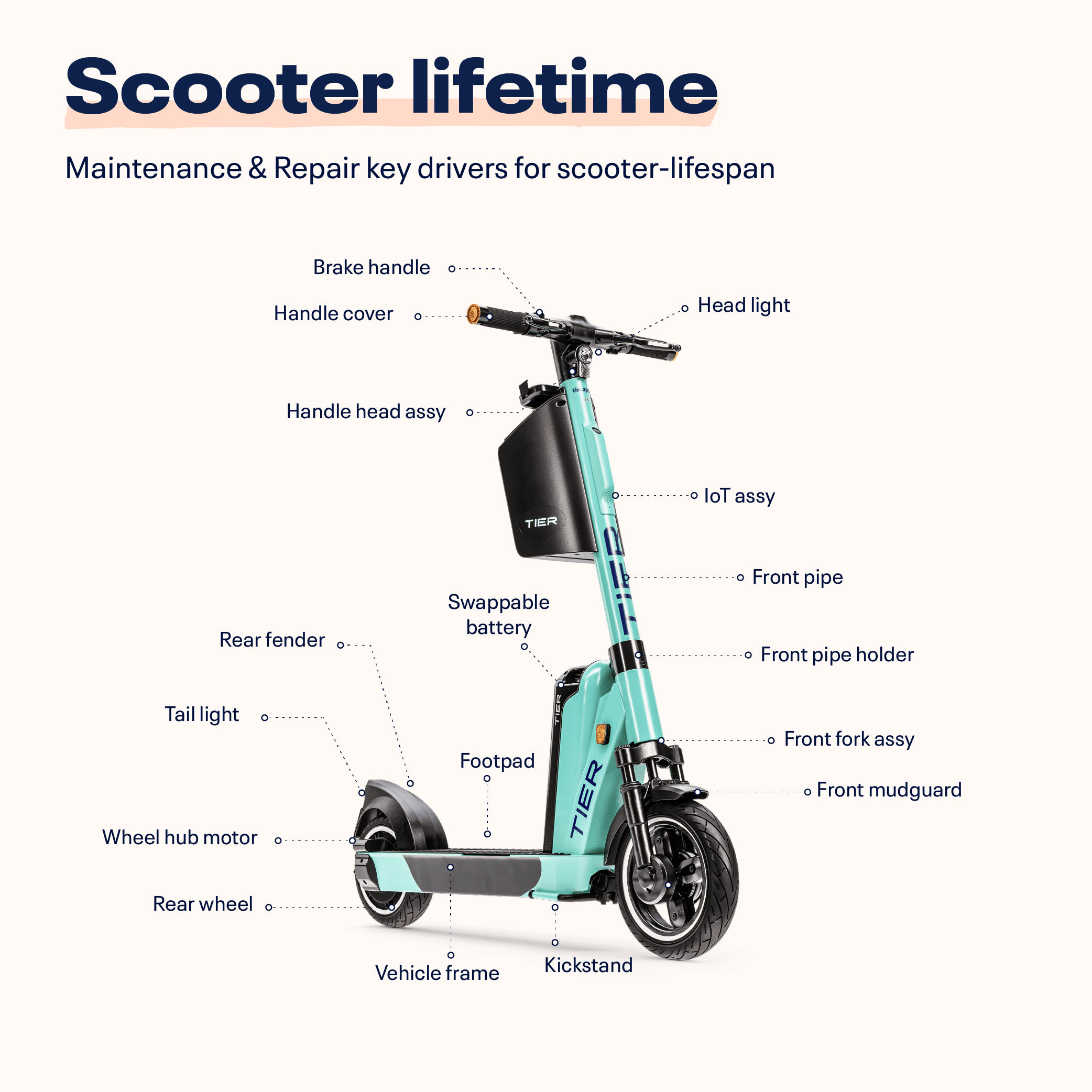 2nd MYTH: E-SCOOTERS ARE BAD FOR THE ENVIRONMENT
FACT: At TIER, we have been climate-neutral as a company since January 2020. It is our goal to continuously reduce our carbon footprint, optimise processes and produce as few emissions as possible. The measures we have taken include the introduction of electric scooters with swappable batteries. These batteries can be swapped, for example, with the help of e-cargo bikes, further optimisation of the lifespan and charging with 100% green electricity. In addition, the TIER Energy Network was launched together with the latest e-scooter model - TIER V - in several cities across Europe and the Middle East. The charging network is the next evolution of shared mobility in smart cities. It enables users to swap batteries and creates an even more sustainable operation as it reduces the need for vehicles to travel around and swap batteries. The TIER V only emits 42.8 gCO2/pkm (HSBO, 2021). This is over 70% less than what a private car emits. TIER's vision is to introduce the same swappable battery to its portfolio of shared vehicles so that in the future all will be powered by the same charging network.
In general, however, e-scooters are one of the most sustainable options in terms of energy efficiency in transport.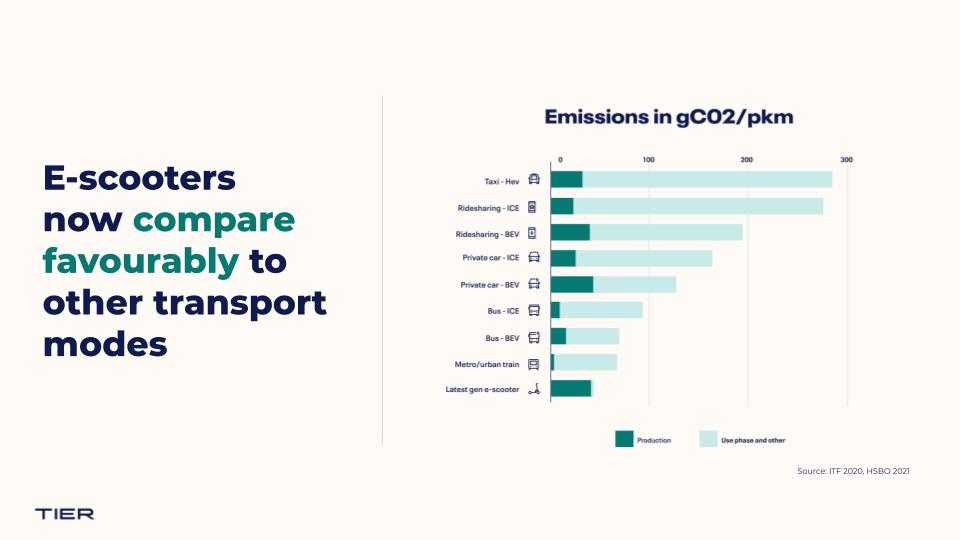 3rd MYTH: WORKING CONDITIONS AT E-SCOOTER COMPANIES ARE UNFAIR AND ARE BASED ON THE GIG-ECONOMY
FACT:​ Unfortunately, there is no industry standard regarding working conditions yet. While US providers work mostly with self-employed people (so called gig-workers) for recharging the batteries, business models and working conditions at e-scooter companies can differ considerably. To charge or collect the e-scooters, TIER works exclusively with salaried employees, either on a part-time or full-time basis.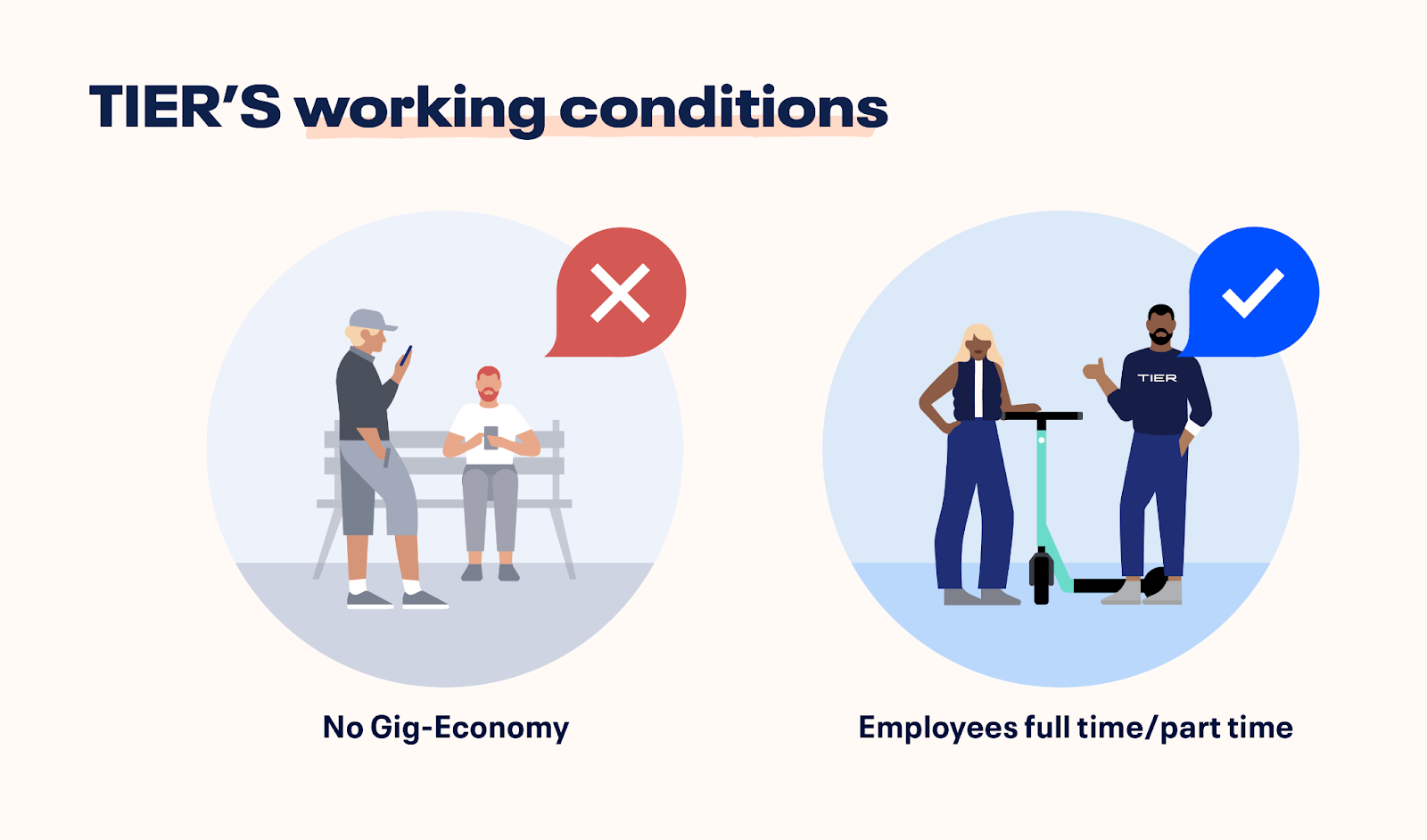 4th MYTH: E-SCOOTERS DO NOT REPLACE CAR TRIPS FACT:
FACT: We already see a significant share of riders using our service to replace car rides and for intermodal trips that connect with public transport options. Our latest Citizen Research project, where we surveyed over 8.000 people across different cities, shows that on average 17.3% of our rides already replace car rides, with the share being as high as 22% in cities such as Berlin. This means that since the founding of TIER we have replaced over 12 million car rides and 1 out of 6 TIER rides replaces a car trip already. E-scooters are clearly a sustainable option in the urban transport mix and by replacing car use as well as complementing public transport networks can contribute to the decarbonisation of urban transport. Indeed, the International Transport Forum (ITF) projects that active and micro-mobility as well as shared mobility need to take up close to 60% of the urban transport mix by 2050 to increase sustainability and resilience of the transport system.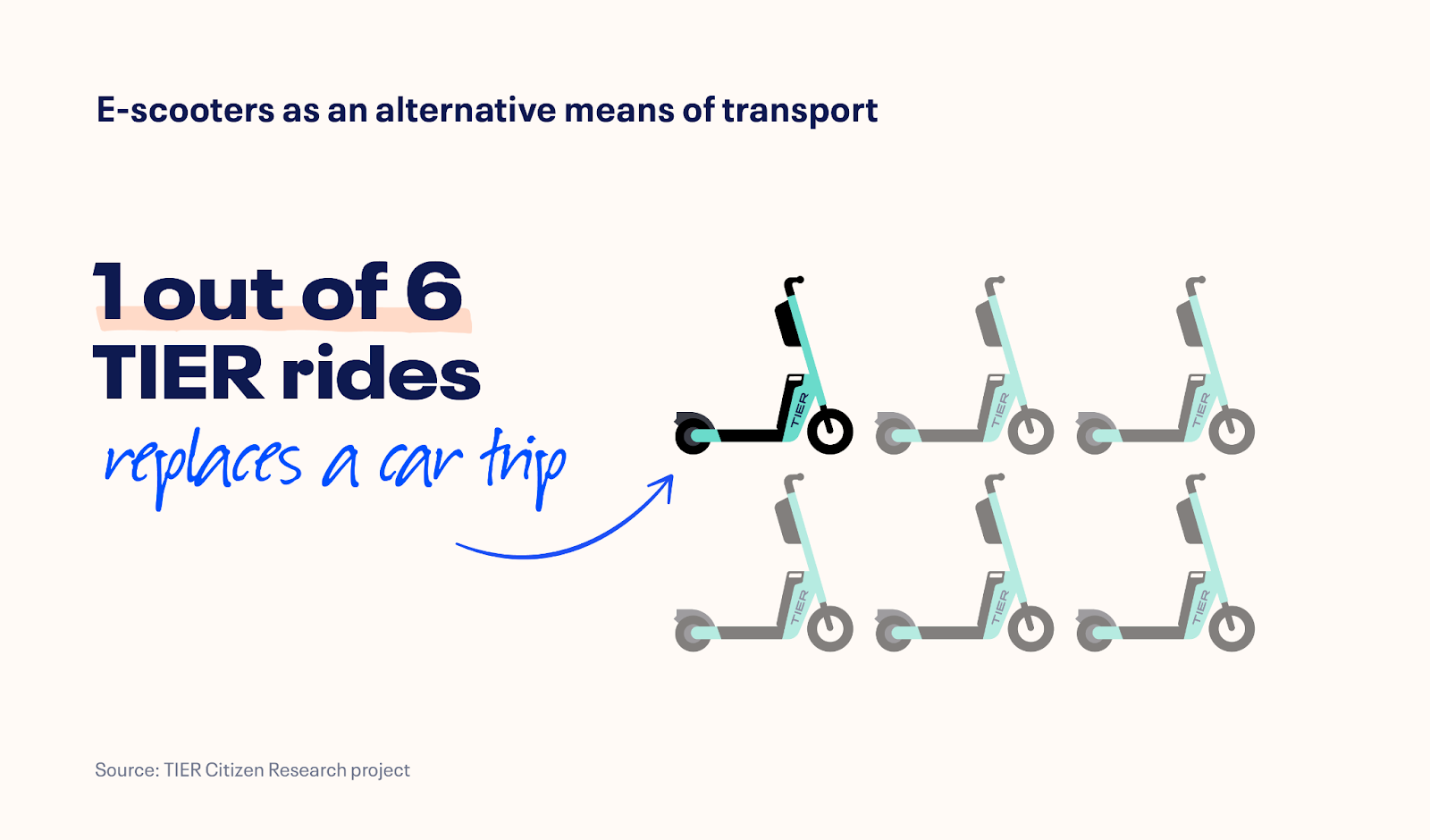 5th MYTH: E-SCOOTERS HAVE A HIGH ACCIDENT RISK
FACT: From the current accident figures, no increased risk can be derived for scooters compared to other means of transport. At the moment there is a lack of empirical foundations to make serious statements about the accident risk. The vast majority of seriously injured on bicycles or scooters, however, result from accidents with cars. In many countries, fatal accidents involving cyclists are on the rise. But nobody would, therefore, question cycling. There is an obvious need for improving the urban infrastructure so that cyclists and all other personal light (electric) vehicles are better protected from cars. In addition, it is proven that the more popular a means of transport becomes and the more accustomed it becomes, the fewer accidents it causes per kilometer driven.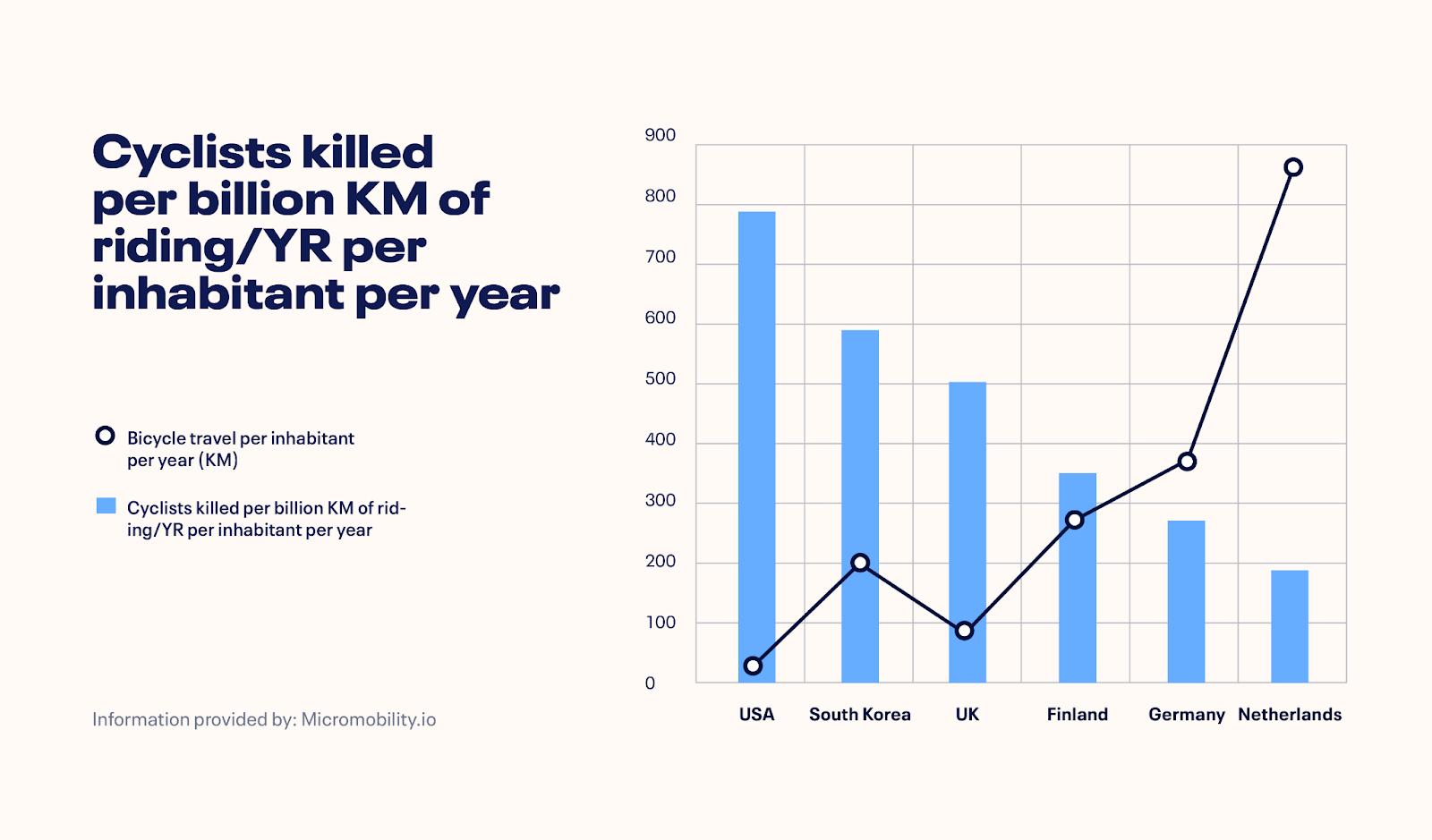 6th MYTH: THE CITYSCAPE IS DOMINATED BY E-SCOOTERS THAT BLOCK SIDEWALKS
FACT: The lack of public parking space is not an e-scooter problem. Public sidewalks are traditionally used as parking areas for two-wheelers and the number of parked two-wheeled vehicles continues to increase.
A typical ratio between cars and e-scooters in cities is 100:1. 96% of all cars stand unused around, with each car occupying ten times the space of an e-scooter. With this in mind, public space in cities must be rethought and redesigned.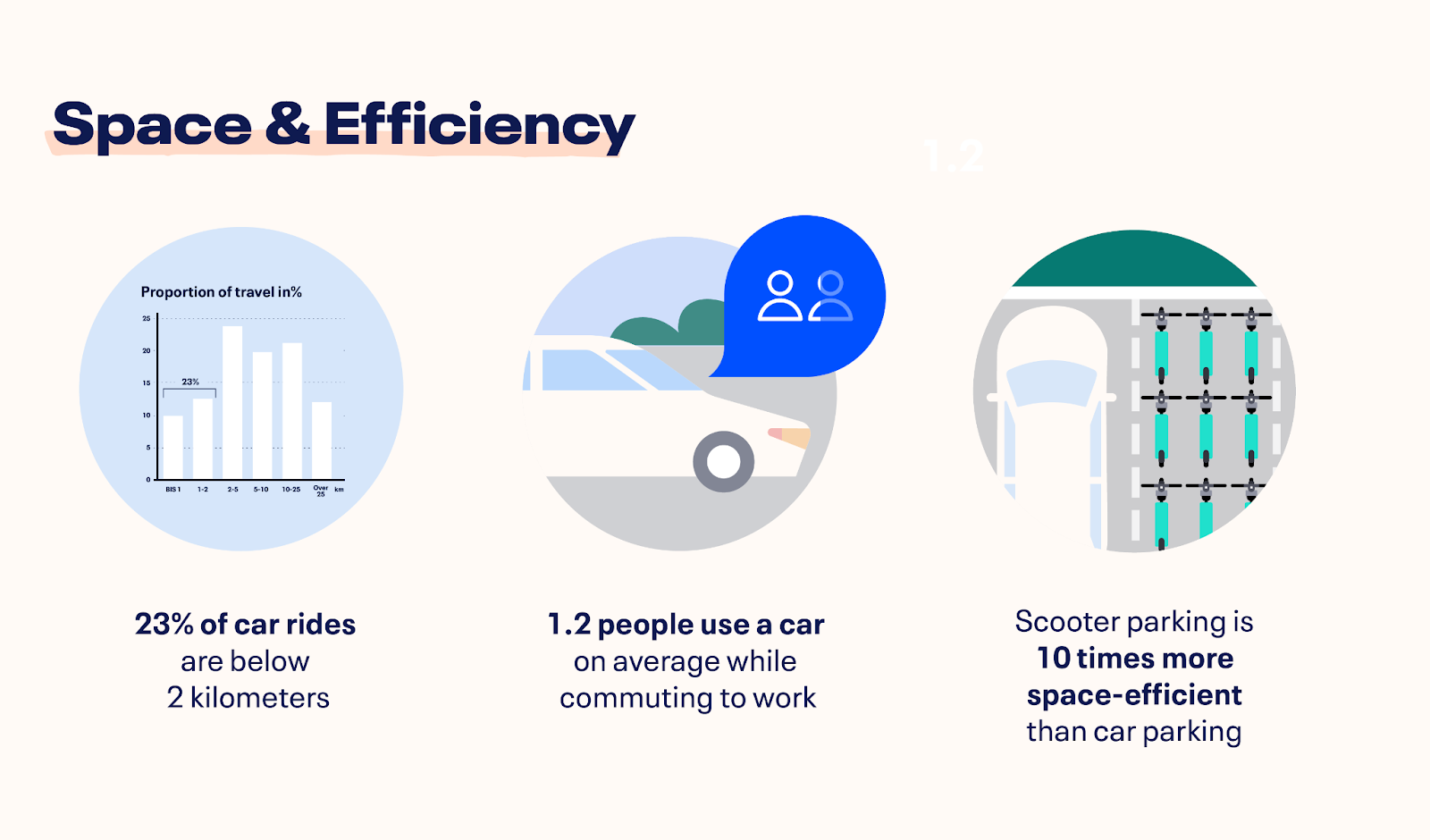 7th MYTH: E-SCOOTERS ARE A TOY FOR TOURISTS
FACT: The majority of TIER's e-scooters are used by residents of the respective city or country. However, e-scooters are also popular with tourists, but also in cities with very little tourism. At TIER, around 90% of scooter users are registered with domestic means of payment, a proper indicator for the intensity of use by local customers.