Inside TIER: Meet Tatjana, our DEI Specialist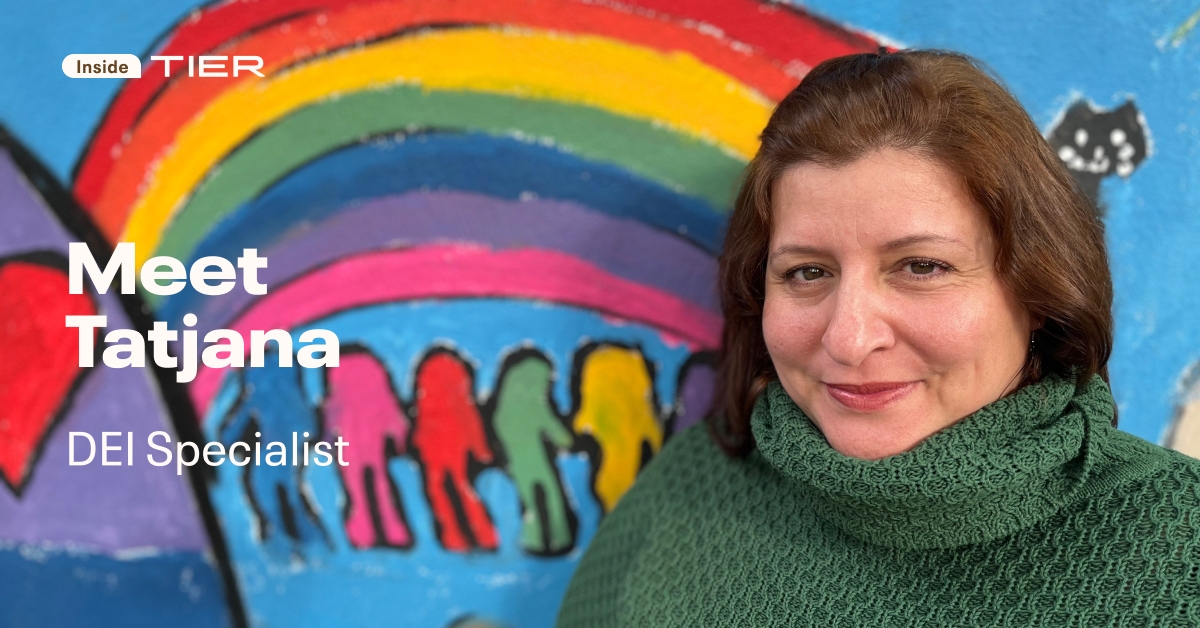 TIER runs on one mission: changing mobility for good 🌍 There are countless dedicated people from across the globe who contribute to our vision. In the new Inside TIER interview series, we will give you a glimpse into who sits behind our operations and what drives them and their teams.
In this edition, we sit down with Tatjana San Luis (she/her/hers), our Senior DEI Specialist.
TIER: Hi Tatjana! Let's start off with you telling us something about yourself that we don't know?
I am an open book in many ways, because I always speak my mind for better or worse.
Maybe something many people do not know about me is my habit of never walking or cycling the same way back when I run errands. When I walk or take my bike, I always have to make circular trips, even if it means I am longer on the road. I was a young adult when this habit was brought to my attention by flatmates. I never thought of it before, but yes, I did it then, and I do it now. Why, no clue! Maybe I feel like I am losing out on discovering something if I always keep walking and biking the same routes. I hate routines because I feel it goes against my value of flexibility. So that is me. You want to kill my spirit? Get me to adapt to a daily routine ;-)
Tell us a little bit about your role at TIER and what your day-to-day looks like?
As a DEI specialist, you tend to operate as an in-house consultant supporting the business and ingraining DEI principles into everything the company does. The role allows you to work across different functions and teams, which I love most about the job. Once we had our DEI strategy, my role has focused on shaping and informing initiatives that would enhance TIER's culture and internal processes to drive our DEI agenda. A critical part of my work is to gather data. Data that can help us better understand employee experiences when it comes to topics of fairness and inclusion. Having that sort of information matters to our work because it allows us to set benchmarks, monitor our progress, and correct our course if the initiatives do not have the intended impact. Data gives clarity, direction, and a sense of comfort for DEI professionals as our work does not solve technical challenges but dynamic, interconnected challenges that arise from culture, behavior, structure, and system barriers we encounter in every workplace.
So my role is to unpack and identify these barriers and to use data to support transformations. That is why one of my first tasks at TIER was to produce TIER's first company wide annual DEI report 2021. In looking at what data we had and did not have, but was necessary, such as gender identity, ethnicity, and caregiver status, we could pinpoint what we had to generate on demographic and inclusion perception data. Based on what we knew about missing data we developed a DEI survey that could help us capture this information and begin exploring and learning how beyond binary gender, age, and nationality other identities intersect with employees' experience at TIER. We are only in the early stages, as we launched our DEI survey this year and there are definitely more questions to unpack in the quest of understanding our employee experience. But that is the fun, exploring, setting up hypotheses and going into different directions looking for patterns, threats that help create a storyline that tells us more about our particular culture and DEI challenges and opportunities.
The other thing I do a lot is to build relationships and foster allyship. This includes a lot of communication, transparent and honest communication. So yes, when projects are successful, and we deliver on set targets, it is always because of strong relationships and effective communication. Then there is an educational component to my DEI work at TIER. DEI is still a very nascent field and is often not seen for its transformative design and the business imperative it carries for companies. So, my job is also to educate on DEI topics, whether on how it relates to profitability, its impact on company performance and employees, or on the services and products we offer to our consumers and the cities we operate in.
I am most excited about our achievement in rolling out our bi-annual DEI survey, embedding bias-interrupting training into our appraisal and 360 feedback cycles, and our onboarding. And, of course, launching our Queer@TIER ERG. Externally we also moved on to developing and implementing our Rise Together Initiative program that focuses on creating job opportunities for marginalized social groups in our operating markets and fostering a safe and inclusive work environment at all our operational sites.
What is the best part of working at TIER?
The people. I have never encountered such a dynamic group of people who are driven and invested in our mission to change mobility for good. I can always depend on my colleagues to challenge me, make me do better, and most importantly, feel supported when feeling down and ready to give up. There is always a smile to be shared, a kind gesture to reach you, and an action that will show you that you matter. You are seen and appreciated.
Which company value has the biggest impact on you, and how do you contribute to it?

All of them together. The trick is for me to learn to balance them and ensure all these values serve my purpose of building an inclusive culture at TIER. Because of the nature of my work, I collaborate and engage with many different stakeholders from across business functions and organizational levels, and it is important to navigate these relationships in a way that supports delivering on specific goals and KPIs.
I find myself often adjusting to the different values depending on the team I am working with. If we are a group dominated by trailblaze, I try to bring in the play element so that we can also find joy and fun in what we do. Rise is perhaps one that I thrive for most every day because my life motto is, we live to learn, and for me having the chance to learn from colleagues, see things from their perspectives, challenge my assumptions, reflect on my actions and learn every day to do better, that is what drives me.
How do DEI initiatives nurture the company culture, and why is it important?

DEI is everything. It is not only about our one-off initiative to change behaviors or structures. For me, at its core, DEI is about the future of social cohesion in the workplace and the communities we serve through our products and services. We must harness it by working daily with the intention to ensure physical and psychologically safe working environments and to create a space where everyone is valued, feels connected, and has fair opportunities to thrive.
The work we put or do not put into DEI says much about our collective ethics. Suppose we show up collectively and push on DEI topics and engage in critical dialogue and education around DEI. In that case, we are saying something about our community at our workplace: Saying we do not accept that people should be treated differently because of their identities. It highlights that we do not accept divisions and that we do not believe in the idea that there is not enough for everybody. So whatever your values are and what behaviors you embrace in your company, if they are not fundamentally embedded in DEI principles of social equity and justice, they will not contribute to social cohesion and, thus, a path to a sustainable business model.
What's something that you have worked on that you are most proud of?
My self-worth. While growing up in Germany as a young teenager, I had to learn to fit in and navigate the ambiguities of being a mixed child. My ethnic and cultural diversity was a pain point for me growing up in the Middle East and Europe. As a child and then a young teenager, emotions are raw, you are in the process of understanding who you are, learning about yourself and who you want to be as you become an adult. In these very transformative years, you are also most perceptive to what others say about you and who you ought to be. I never was allowed to belong. My mixedness was confusing, and I did not make it any easier when I protested by telling teachers, friends, and strangers that I was all: German and Palestinian, saw German, English, and Arabic as my "mother" tongue, or that I was Christian and Muslim. Half of my life I was told I had to assimilate if I wanted to succeed, and I learned to master the art of navigating spaces, blending in, and code-switching as needed to survive.
It was only in my 30s I came around to confront this. I had always been a very strong individual who did what I wanted and never cared what others thought of me. And thus, it hit me hard when I was asked to tell my story one day. I freaked - because vulnerability was not in my vocabulary, I never showed it, especially not in public. I remember saying what story? Why my story? Who cares about my story? And so forth until that moment sunk in me that society taught me to hide the story of who I am. Not having a feeling of belonging and not feeling connected had taken away my voice. I had lived half my life telling myself I was not good enough, that it was best not to shine and keep a low profile.
So now, in this half of my life, I am on a journey to embrace all I am and be all I am with no ifs, buts or apologies. Seeing my self-worth has been empowering and has made me a better human being, where it matters most to me.
What advice would you give your younger self?

Trust yourself. Don't apologize for all you are. And always push yourself to go beyond your comfort zone. Be brave and take that step to show vulnerability, because that is what makes us connect and shine as the imperfect human species we are.
Want to work with Tatjana? Check out our current openings: https://about.tier.app/jobs