TIER talks MaaS – What is hindering the adoption of MaaS?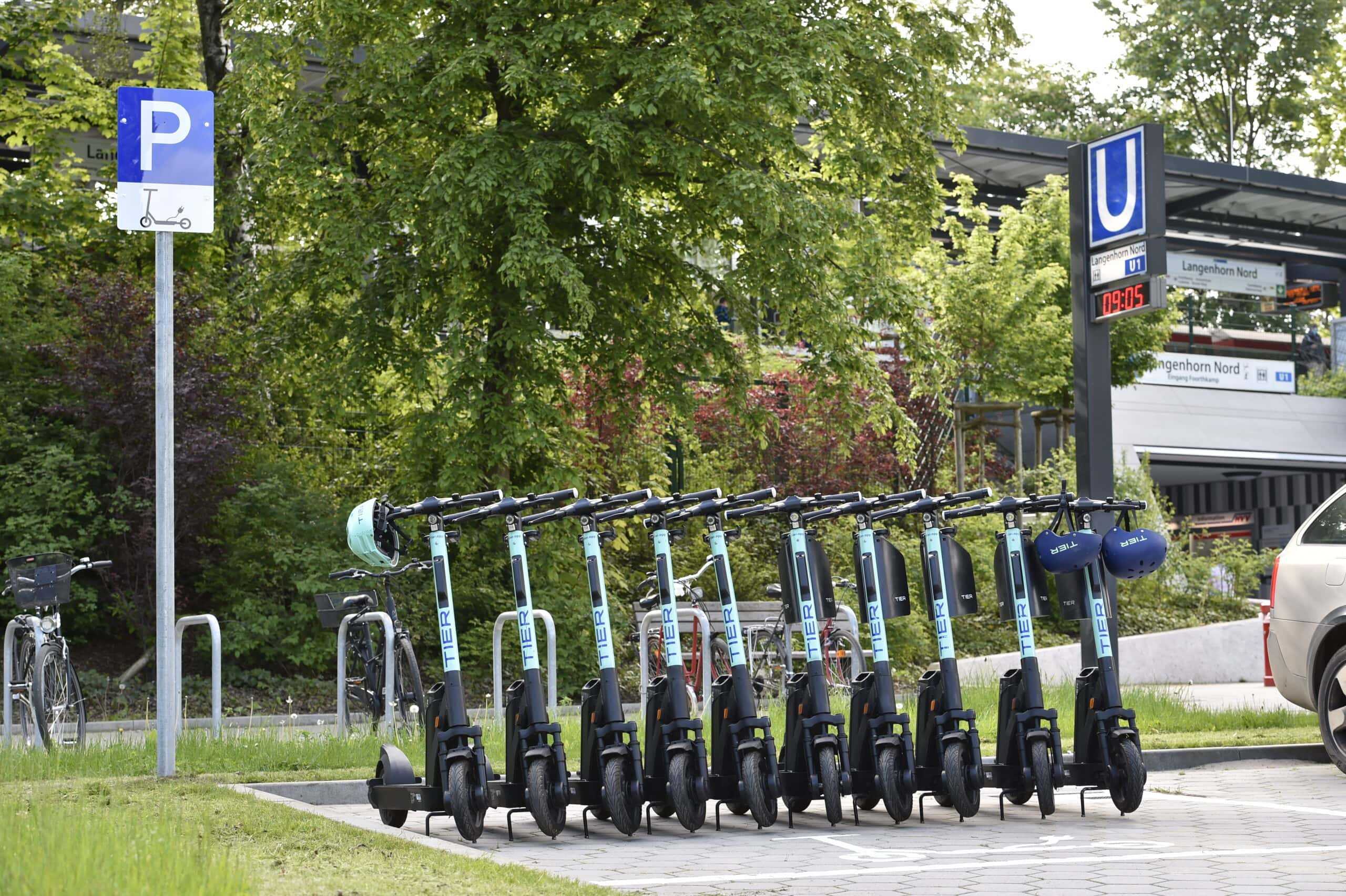 On our mission to create a better-connected tomorrow and change the mobility sector by connecting our sustainable micro-mobility offerings into MaaS solutions, we recently kicked off our brand new 'TIER talks MaaS' series. As the most integrated micro mobility operator with more than 30 integrations throughout Europe, we want to share our experience with Cities, Public Transport Operators and other Mobility Providers to enable progress in the mobility sector and truly change mobility for good. While our first article shed light on the ideal stakeholder setup for MaaS projects, this edition will focus on the current scalability limitations of MaaS.
One app for all mobility services - this is the ultimate desire for many customers. MaaS solutions are apps that bundle all mobility services such as e-scooters, rental bikes, cars and public transport. While the idea sounds fantastic, things still look somewhat different in reality, as the user growth rates of MaaS platforms have so far been demonstrably low. Instead, customers mostly continue to rely on the mobility apps of the individual providers. We at TIER can confirm this development based on our data: even in cities where our vehicles are part of several MaaS platforms, such as Berlin, Munich, Zurich or Paris, the share of trips coming via those platforms rarely exceeds single-digit values, and on average accounts for 2% of all rides. While the reasons for this are certainly manifold, they can be traced back to five main causes, which we will examine in more detail.

1) Deep Integration is a must
In general, we distinguish between deep link and deep integration. Integration via deep links displays the Mobility service operator's vehicles in the MaaS app. In order to book, use and pay for the vehicle, the user needs to be redirected to the respective app of the operator. Deep integrations, however, allow users to book and pay for their journey directly in the MaaS app, without needing the operator application at all. This is the most advanced level of integration. The figure below visualizes the different levels of integrations, whereas deep link integrations can be defined as Level 1 and deep integrations as Levels 2, 3 and 4, depending on the complexity of the MaaS project.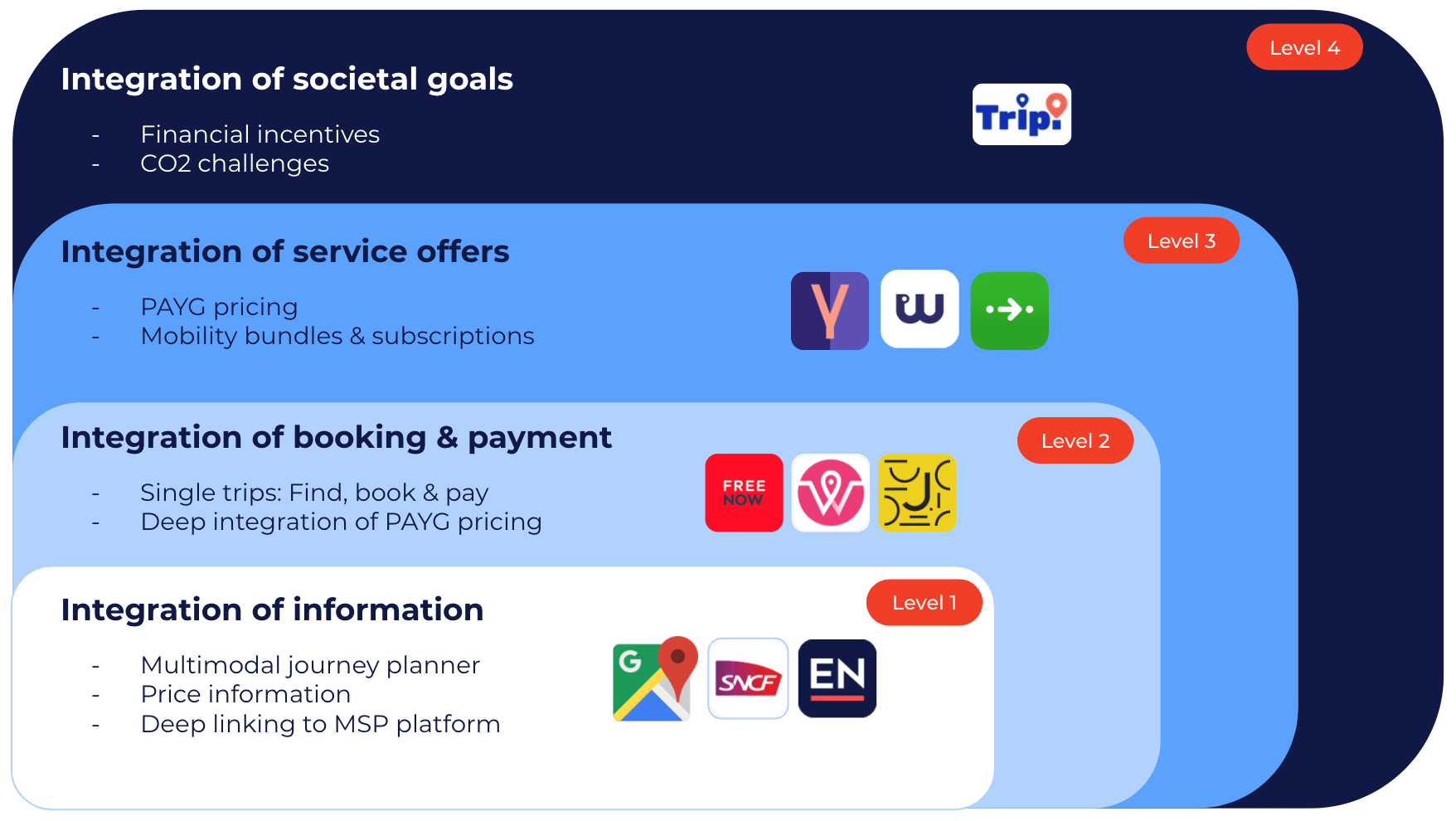 Without a deep integration of various mobility types, which enables customers to seamlessly find, book and pay for different mobility services, a MaaS solution would only be a simple aggregator rather than a multimodal one stop shop for mobility. This type of integration increases the risk that users stick with the provider they chose via the deep link integration and never come back to the MaaS platform. It also goes without saying that deep integrations are a prerequisite for creating multimodal journeys with a single ticket or offering mobility bundles, which we see as a key success factor for MaaS (see section 3). Moreover, numerous Mobility Service Providers (MSPs) and platform operators still tend to shy away from deep integrations due to various reasons, ranging from technical capabilities to fear of losing customer control.
Our experience with more than 30 integrations, out of which 65% are currently deep link integrations, demonstrates the need for more deep integrations: "On average, our deep integrations generate 30x more ridership than deep link integrations'', says Tinia Mühlfenzl, Director of Market Development at TIER. However, we see an increasing number of MaaS platform operators developing fully integrated solutions, and also more and more MSPs providing their API's for full integration.
2) Integrating all available mobility offerings remains an unfulfilled wish
MaaS platforms can only provide a real alternative to the privately owned car when all transport modes and (ideally) all operators are integrated. However, MaaS projects are complex and very time-consuming, which is currently hindering the growth on the supply side. We at TIER can confirm this: According to our own experience, every new deep integration takes on average 40 hours to implement and 100 hours per year to maintain. This includes the work from various teams collaborating on the project, including Business Development, Product, Legal, Finance, Customer Care and Marketing.
On the one hand, the lack of data standardization is definitely a risk to the scalability of MaaS. To be successful, an international API industry standard should be implemented. Latest developments in the Netherlands to introduce the TOMP API, a technical standard interface for communication between Transport Operators and MaaS Providers while keeping the needs of the public authorities and cities in close consideration, is a first step in the right direction. On the other hand, standardization is not only needed on the technical, but also on the legal and business level: MaaS solutions rely on the integration of multiple mobility providers, but the level of legal sophistication among all stakeholders differs quite significantly and most often doesn't meet the standards of public authorities. To resolve these differences public authorities have to invest a significant amount of legal resources, slowing down the overall implementation process and thus making a fast and easy market entry more difficult.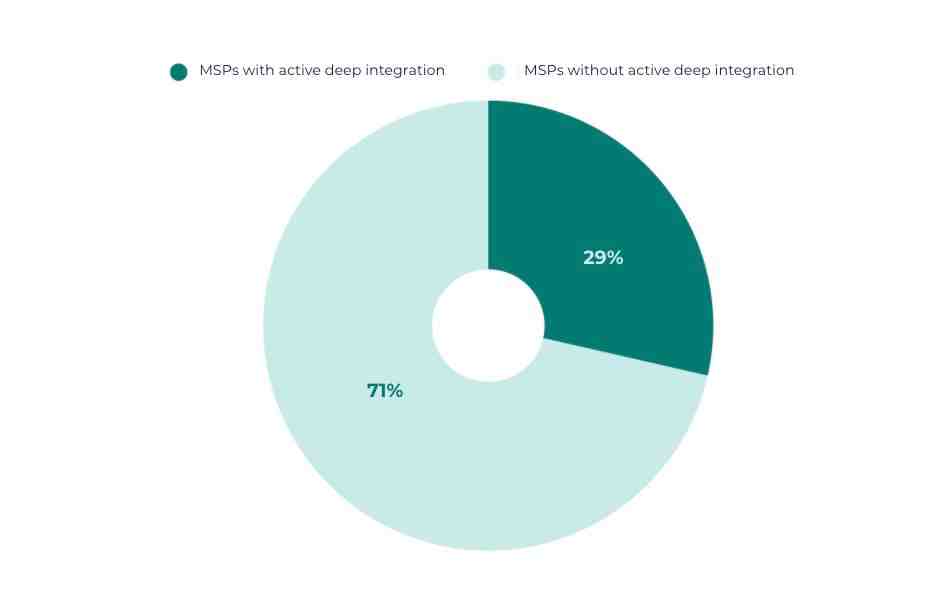 3) Product & Pricing Bundles
The lack of combined product and pricing offers in MaaS platforms, referred to as bundles in the further course, is another bottleneck to MaaS scalability and adoption. The majority of MaaS solutions currently only offer the usage of all integrated mobility services via a pay-as-you-go (PAYG) pricing option. A combined usage and payment of different mobility modes via bundles and intermodal packages is currently not offered, but often considered as a prerequisite to make MaaS a real alternative to private cars. However, implementing bundles pose a hurdle for both MaaS providers and MSPs: For platforms, it is mostly the amount of technological implementation effort and the difficulty to determine the right mobility mix that leads to both customer adoption and profitability; for MSPs, it is rather the lack of commercial incentive, as providing bundles via MaaS partners often implies to offer discounts, which is difficult to justify due to low margins.
Even though first research on the right design of mobility bundles has been done and the number of commercial trials is increasing, broad evidence on the right bundle design is still lacking. However, the Sydney MaaS trial (detailed insights available here) shows first encouraging evidence of an uptake in bundle usage over time in comparison to PAYG. The trial shows that the right bundle design can have a positive effect on private car usage and thus contribute to a reduction in city emissions. In addition, first mobility bundles are already being successfully piloted in Europe's MaaS environment: Our data from the integration in the Yumuv app in Switzerland, which bundles services from shared mobility with public transport from the Swiss Federal Railways SBB and the local public transport providers in Basel, Bern and Zürich underlines that between August 2020 and March 2021 65% of all TIER rides taken via the Yumuv app were performed by subscribers and not PAYG users. In Finland, the Whim app (from MaaS Global) combines various transport options, from public transit to taxis, rental cars, shared bikes and e-scooters, under one convenient interface. Whim intends to transform the way people move by fulfilling their complex mobility needs with a single, all-inclusive season ticket. "Before the outbreak of the COVID-19 pandemic, 30% of our users were subscribers", says Peter Kuhn, Director New Ventures at MaaS Global. The research findings in Sydney and the encouraging numbers from apps like Yumuv and Whim are showing great potential for mobility bundles. This is why we will continue to support the research and implementation of mobility bundles in the future to make MaaS even more attractive.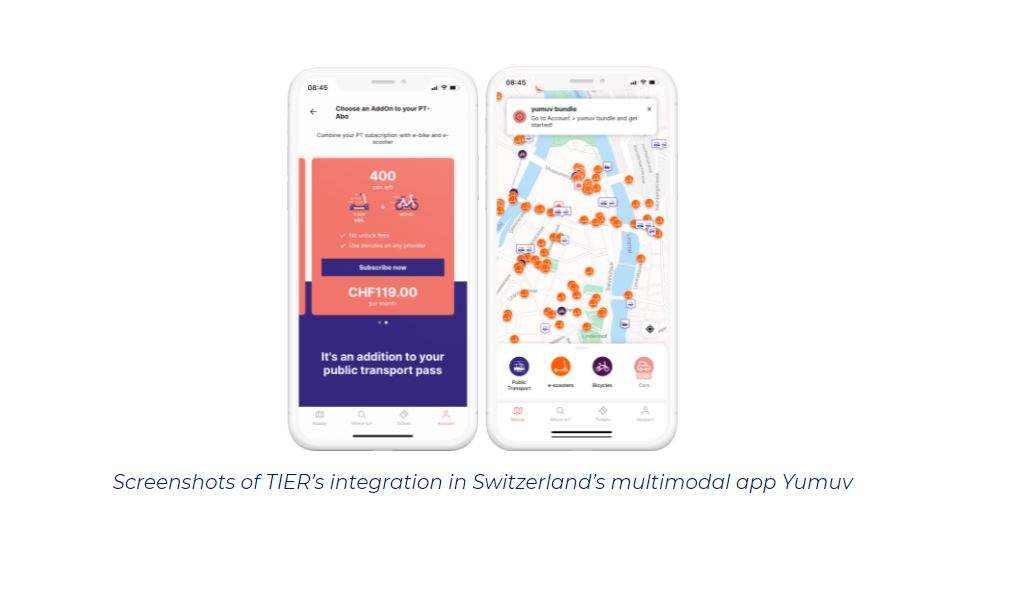 4) User Experience - Mobility is a matter of habit
Despite the technical finesse and improvements, MaaS apps are currently not adopted for using multiple means of transport. Mobility in urban areas is mostly routine: Users have often already decided which means of transport and which app they want to use before they even start their journey. That is why the growth rate of MaaS users remains low and a large part of the users utilizes the native MSP apps for one process.
It should also be noted that the range of different apps for public transport continues to grow instead of being consolidated. In Berlin, for example, in addition to the new multimodal app Jelbi by the local Public Transport Authority BVG, there are three other apps with partly redundant features, including apps from BVG and the local railway operator. While there are certainly reasons (mostly technological complexity and short time-to-market goals) that justify this procedure, we believe that public MaaS operators would benefit from consolidating their app strategy, as this fragmentation not only unsettles users, but also prevents a large customer base from being built up. The situation is similar in other cities, such as Munich: Next to MVG's new MaaS solution MVGo, apps for planning (MVGFahrinfo) and for bike-sharing (MVGmore) continue to exist. However, we see that first consolidation steps are being taken by MVG, as they start integrating their own bike solution into the new MaaS app MVGo and plan to consolidate the amount of MaaS apps in the future: "MVGFahrinfo is the most used app for fast planning purposes and buying tickets in Munich. From next year our bike sharing system MVG Rad will be fully integrated in our new MaaS app MVGo. This is why we have decided to offer three mobility apps only for the time being." states Claudia Sagmeister from MVG.
In addition, the need of international or frequently travelling customers cannot be met by local MaaS platforms. For these types of customers, transnational solutions such as Citymapper, Google Maps or FREE NOW are more attractive.
5) MaaS is more than just an app
Last but not least, a well developed public infrastructure is needed in order to support the usage of public transport, shared mobility services and MaaS in general. TIER research data suggests that among prospective users who consider safety a barrier to use, lack of protection from traffic is a primary concern (68% of respondents). In addition, nearly half of citizens support encouragement from cities to promote the use of multiple modes of transport beyond cars.
Market adoption can also be supported by partnering with private landowners and real estate investors who provide private property, co-finance mobility stations in residential areas and promote the usage of MaaS by handing out mobility benefits to their tenants. BVG's Jelbi project takes MaaS to the next level by collaborating with Berlin's real estate sector: "The collaboration with local real estate companies proves to be very successful. Besides their support in providing space for mobility stations, Jelbi customers benefit from a mobility budget financed by our real estate partners. This way the market adoption of MaaS is increased - especially in suburban residential areas." states Sandra Talebian from BVG. Our data from the Jelbi stations in Berlin indicates that mobility hubs are more frequently used as a starting point (65%) than as an ending point (35%) of the ride.
In order to offer MaaS solutions to suburban areas, we partnered up with Hamburg's Public Transport operator Hochbahn to provide our e-scooter service as a first and last mile solution for customers in the outskirt areas of Hamburg. Together, we set up dedicated parking areas for e-scooters near metro stations. Through our in-app bonus parking feature, users get incentivized with free rides for using these dedicated parking zones and parking the e-scooters appropriately. This project is a positive example for the connection of micro-mobility and public transport services through digital and physical infrastructure, enhancing the attractiveness of both mobility modes.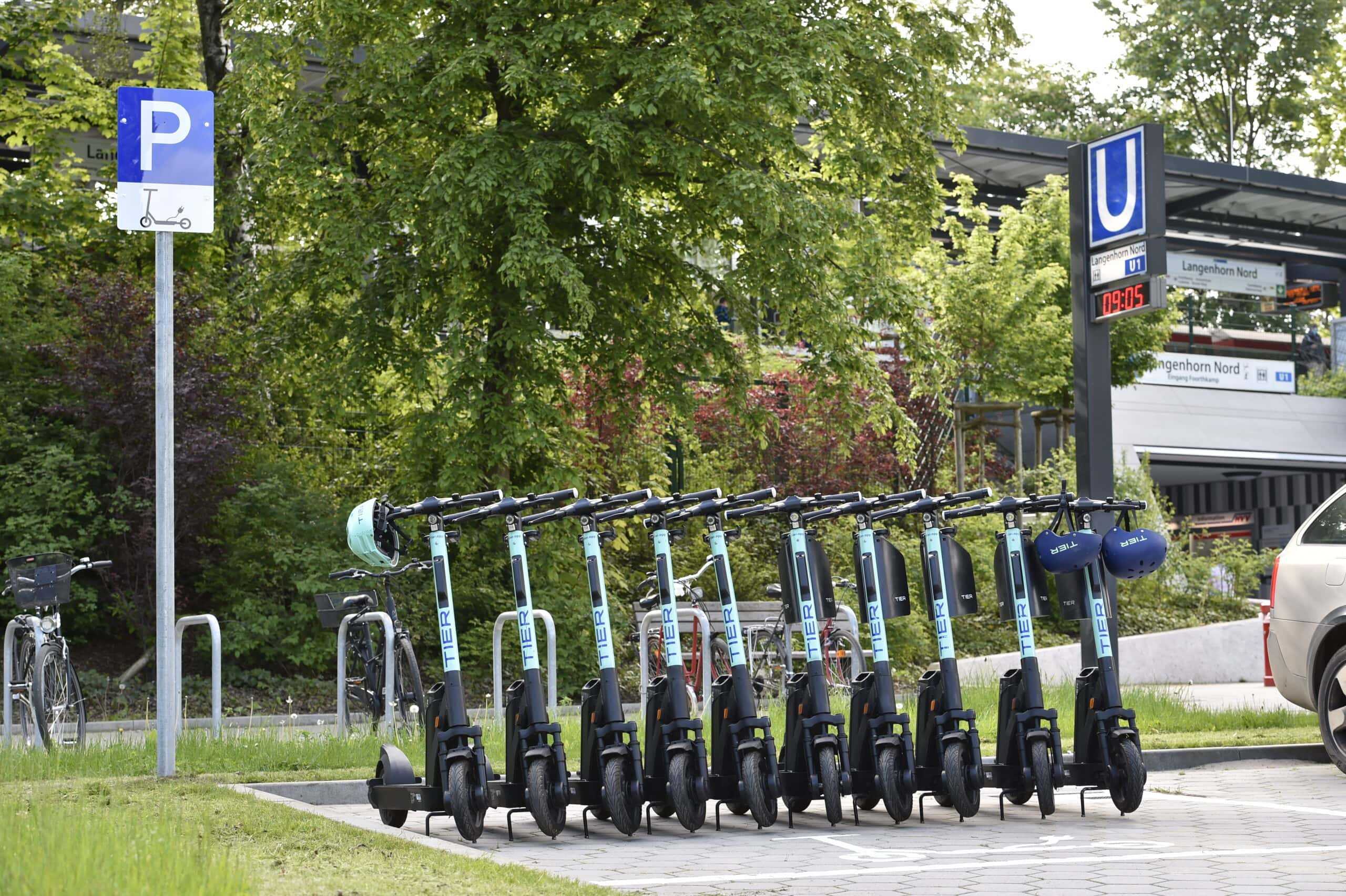 Key Takeaways
There are several factors currently hindering the adoption and scalability of MaaS solutions. From our perspective, the implementation of even more deep-level integrations (1) and the offering of a wider range of available mobility services (2) could possibly be improved in the short run and will increase the attractiveness and competitiveness of MaaS solutions in the near future. In contrast, we see the adoption of mobility bundles at scale (3), the improvement of user experience (4) and the investment into MaaS-friendly city infrastructure as complex challenges to be solved in the long term. In order to reach the next level of MaaS adoption, further research for designing intelligent pricing bundles and consolidation of the multiple local MaaS app solutions is needed to reach a critical mass. Last but not least, more investment from public stakeholders in physical infrastructure supporting the adoption of public transport and shared (micro) mobility is a prerequisite for creating a better-connected mobility ecosystem and changing the mobility sector for good.