Mobility as a Service (MaaS) – Reshaping urban transport for good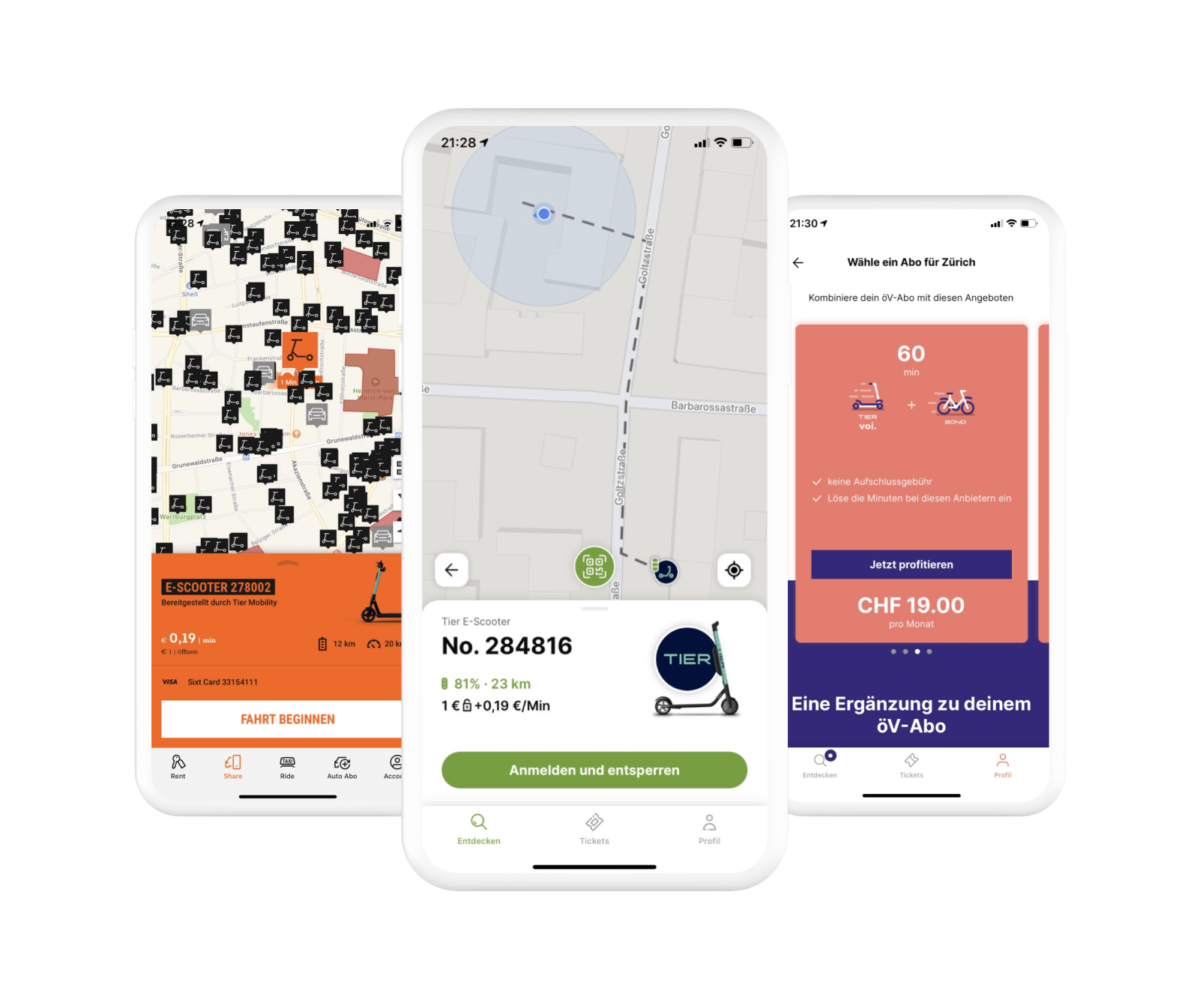 Our mission to Change Mobility for Good and offer the most accessible and sustainable mobility service is one that no single organisation can achieve alone. It's our vision to create a better-connected tomorrow and change the mobility sector by not only offering safe and sustainable e-mobility, but also by helping to connect sustainable micro-mobility with public transport and integrating into existing and future MaaS solutions. Platforms that integrate end-to-end trip planning, booking, electronic ticketing, and payment services across all modes of sustainable urban transport - public or private - thereby making them easier to access, more affordable and more comfortable than owning a private car.
"We have successfully integrated our services in MaaS solutions in 36 cities across 8 countries, with plenty more next-level collaborations in the pipeline."
On our path to pioneer the development of urban transport and innovate new technologies that move cities forward sustainably, we have successfully integrated our services into MaaS solutions in 36 cities across 8 countries - with plenty more next-level collaborations in the pipeline. We are convinced that by working together with MaaS operators in the public and private sector, we can create a system that will benefit future urban transport in four categories:
Gaining a 360° understanding of real-time urban transport:
Public transport is the oldest form of shared mobility and its history makes it a source of extensive and established knowledge of mass mobility. However, new micro-mobility players, such as ourselves, provide very agile transportation services based on a data-driven approach. We are able to define optimised mobility patterns in real-time with a multitude of variables being considered, such as weather conditions, daytime and exact locations. This enables us to substantially contribute to a holistic understanding of individual urban transport patterns and accelerate customer-centric transportation services.
Data-driven improvements to transportation networks:
By building on a better understanding of mobility patterns through our data, we can support public transport providers with the necessary information to identify gaps in the current network infrastructure. This serves as the foundation of improving accessibility to public transport services and creates a more sustainable transportation ecosystem.
Improving the accessibility of urban transport:
Through partnerships with public transport companies and private MaaS operators we can improve the accessibility of mobility. Less densely populated areas are most often underserved in regards to public transport services since operating public transport networks is less cost efficient in those areas. Partnering with micro-mobility providers allows public transportation authorities to offer cost-efficient and convenient alternatives to its users while simultaneously extending its reach to previously underserved areas and communities.
Moving towards more sustainable urban transport:
In all of the points mentioned above, we see the potential of contributing massively to a more cost-efficient and accessible public transportation system. By supporting cost-efficiency, we reduce the boundaries for citizens to shift from private and carbon-emitting cars to alternative public transport solutions. This accelerates our overall goal of making mobility more environmentally and socially sustainable.
Partnerships and Integrations
We are currently engaged in 35 partnerships, all of which fall under three types of integrations:
deep link integrations
deep integrations
integration in native app (pilot)
For all partners with which we have a deep link integration, our TIER vehicles are displayed inside their app. When choosing and selecting an e-scooter, e-moped or e-bike, the user is automatically redirected to the TIER app to finalise the booking and payment. In short, deep-link integrations display the location of the vehicles, the battery data of our vehicles, and prices.
Our deep integration partnerships are what we consider next-level integrations. They allow users to see, book and pay TIER vehicles without ever needing to switch applications and without the requirement of having or creating a TIER account. Deep integrations make it possible to create inter-/multimodal journeys with a single ticket (depending on the partner's individual technical configuration).
Last but not least we also have integration in native app partnerships. In such cases customers can buy public transport tickets through the in-app store of the TIER app, providing them with additional benefits.. They are the ultimate partnership between public transport and micro-mobility providers, as it provides users with a viable multimodal alternative to using a private car. First successful pilots have been run with HSL in Helsinki and Rheinbahn in Düsseldorf.
Reshaping urban transport for good
We are strong believers that micromobility will emerge intact and thrive in the long term. And because mobility is a necessity rather than a luxury, we also believe that partnerships are the best way forward. We have learnt that every mobility player obtains a unique set of knowledge which, if brought together, truly creates a chance to build a seamless, sustainable and accessible urban transportation infrastructure.
"Through the joint cooperation with our long-term partner TIER Mobility, we can offer our customers a uniform mobility offer in Munich. By co-branding on the TIER scooters and integrating them into MVG's apps, we can further expand our multimodal offering and offer a consolidated wide range of innovative mobility services", Claudia Sagmeister, Project Lead Multimodal Services MVG
"We are very pleased to be able to collaborate with TIER in our integrations and future multimodal projects due to its international experience in this field. We have already jointly responded to an invitation to tender for a French city", David Dacher, Project Manager Calls for Tenders, RATP Dev, Paris
"In 2019, Ruter has chosen to enter into a partnership with TIER, not least because of its particularly sustainable orientation. We are now collaborating on several projects, we are looking at how electric scooters can complement public transport, and we are excited about what we can achieve together. For us, TIER is a responsible electric scooter provider, and we are delighted with this cooperation", Laura Herzing, Ruter - Public Transport Authority, Oslo
If you want to know more about TIER and MaaS check out our blog for more updates in the coming weeks!