TIER unveils new, sixth-generation e-scooter model and renews fleet in Germany, Austria, Hungary, and Sweden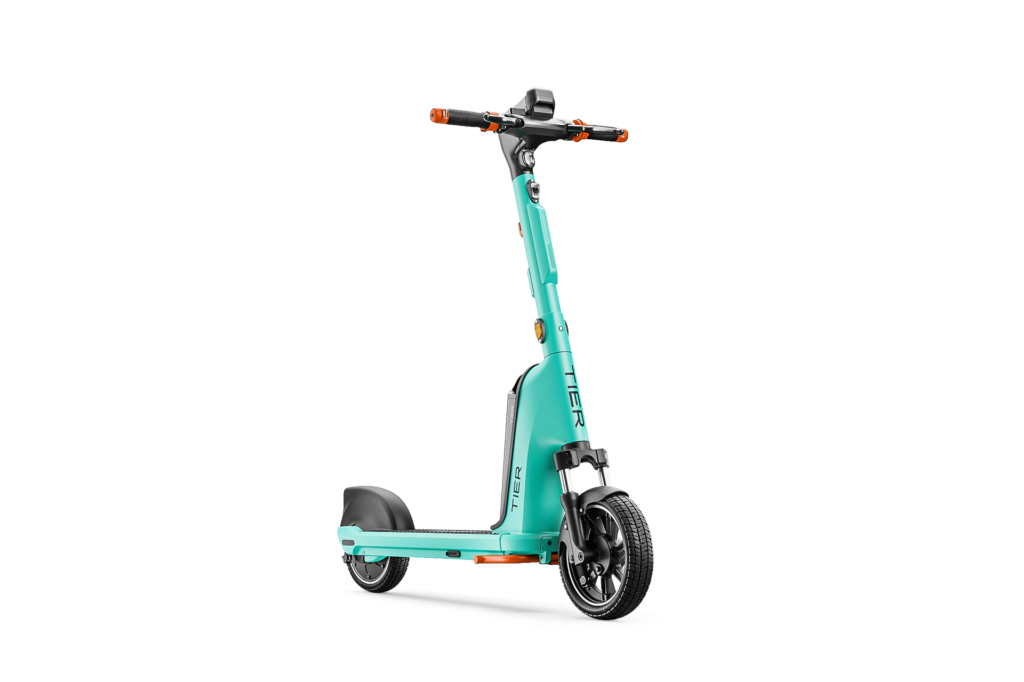 With the new 'TIER 6' vehicles, the world's leading shared micro-mobility provider is offering riders in Germany, Austria, Hungary, and Sweden a better and safer driving experience
The new generation of e-scooters alerts users to restrictions in the city via the display and audio messages, is equipped with many improved safety features, and offers maximum stability and shock absorption thanks to improved hydraulic suspension and a wider base
Berlin, August 1, 2022 - Just in time for this year's peak scooter season, TIER Mobility announced the launch of its new sixth generation e-scooter model, which will be introduced in Germany, Austria, Hungary and Sweden. The global leader in shared micromobility is renewing its fleet in Budapest, Linz, Varberg, Munich and other cities across its more than 20 countries in Europe and the Middle East with a new generation of electric scooters.
TIER is constantly evolving the models and improving the features based on feedback from the cities and users. Designed for frequent use in the city, this vehicle is a more robust e-scooter while providing a smooth experience and the highest level of compliance. TIER riders benefit from increased safety and reliability:
The vehicle gives direct visual feedback to users about city zone restrictions (slow zones, no parking zones, no go zones) via the display. This avoids user frustrations, especially when traveling to other cities or for first time users that do not know the area.
The vehicle has improved turn signals that provide audio feedback to users and avoid accidental turn indication. This increases user safety and ensures safe turning in all conditions.
The vehicle has a new phone holder which is optimally positioned in line of sight when using a navigation app on a smartphone.
The vehicle has been developed to offer the maximum stability and bump absorption, thanks to an improved hydraulic suspension and wider base. The most-advanced motor to help move around obstacles or power up hills and optimized drive system for best-in-class acceleration, which creates a big advantage against other models in hilly cities.
The vehicle has an improved double kickstand for more lateral stability.
"We are very pleased that our riders in Germany, Austria, Hungary, and Sweden can enjoy the Summer season safely and comfortably with the new e-scooter model that focuses on safety, durability and user-friendliness. The new scooter model is a major improvement, both in terms of the user experience and the value we bring to cities," says Dr. Julian Lehmann, Director of Product, Planning & Strategy, TIER.
"With our new TIER 6 scooter model, we aim to set new standards in the micromobility industry and introduce the safest, most durable and sustainable vehicle in the industry. Designed from the ground up for efficient and sustainable operation, our sixth-generation e-scooter model is more durable, modular and has a longer lifespan than the average shared-use e-scooter."
The latest features that Berlin-based TIER has added to its e-scooter reinforce its position as an innovation leader and the most sustainable and safe operator in the industry. TIER riders have already completed more than 125 million rides and traveled a total distance of approximately 250 million kilometers across 22 countries. TIER currently operates in more than 240 cities and integrates with more than 50 different public transport operators.
+++ENDS+++
ABOUT TIER Mobility
TIER Mobility is Europe's leading shared micro-mobility provider, with a mission to Change Mobility for Good. By providing people with a range of shared, light electric vehicles, from e-scooters to e-bikes and e-mopeds, powered by a proprietary Energy Network, TIER helps cities reduce their dependence on cars. Founded in 2018 by Lawrence Leuschner, Matthias Laug and Julian Blessin, TIER is headquartered in Berlin and currently operates in 250+ cities across 22 countries in Europe and the Middle East. With a focus on providing the safest, most equitable and most sustainable mobility solution, TIER has been climate neutral since 2020.
TIER's investors include SoftBank Vision Fund 2, Mubadala Capital, Northzone, Goodwater Capital and White Star Capital. For more information, visit www.tier.app.