TIER Mobility and Remondis extend global cooperation on recycling end-of-life batteries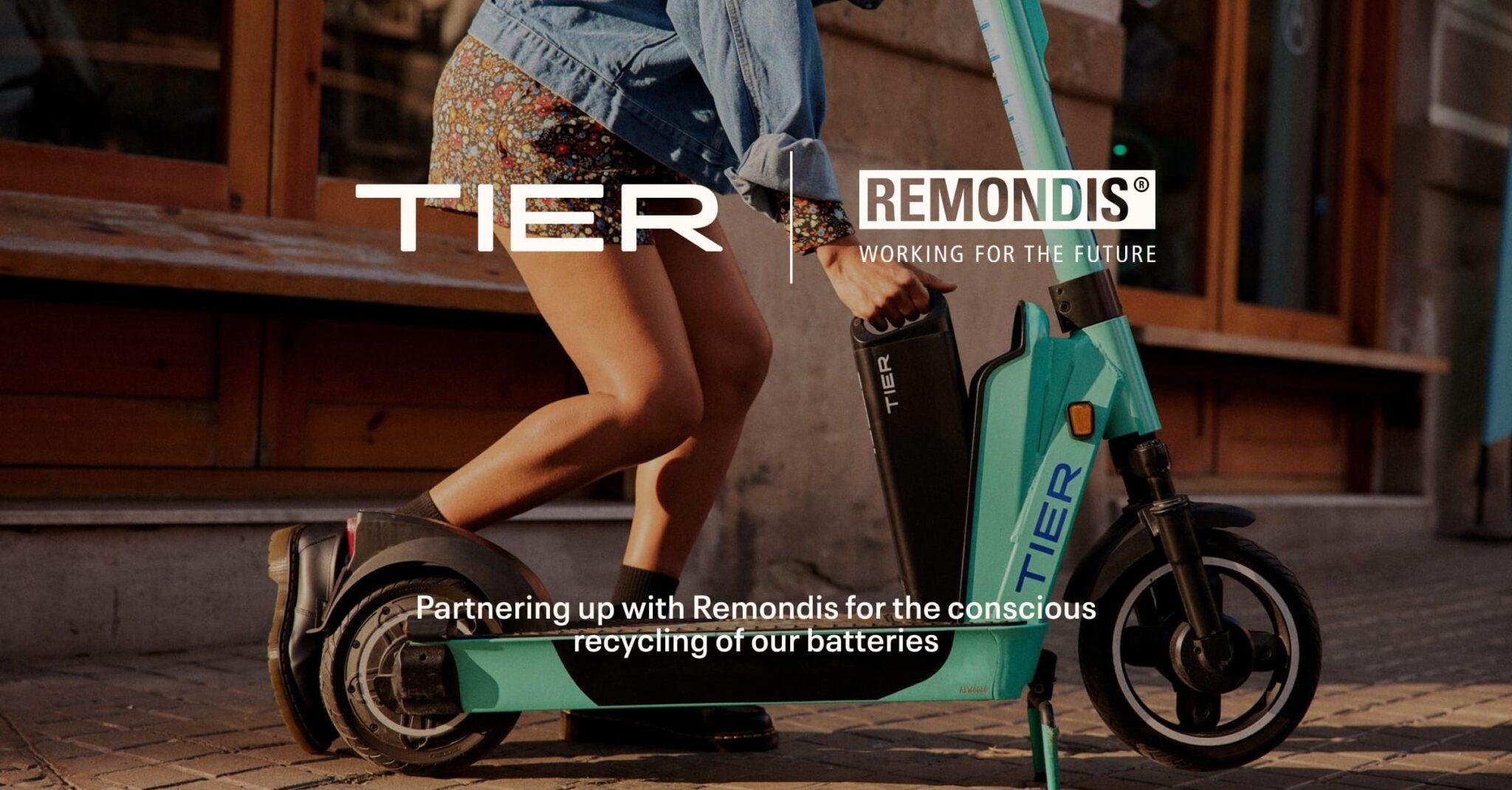 Recycling drive marks important step towards circular economy
Precious metals such as cobalt, nickel and manganese and other recyclable materials such as plastics, aluminum and electronic components are recovered and returned to their respective raw material cycles
Agreement supports proper disposal of lithium-ion batteries in 16 countries
Berlin/ Lünen, 30 June 2022 - TIER, the world's leading micro-mobility provider, has stepped up its commitment to recycle all elements of lithium-ion batteries in key markets across Europe with an agreement with Remondis, one of the world's largest recycling providers.
The agreement covers new markets, such as Belgium and Spain, and also includes end-of-life batteries used in e-bikes following their introduction in key cities including London, Berlin, Paris, Stockholm and Milan.
The agreement will strengthen TIER's resource conservation and covers the end-of-life management of the lithium-ion batteries of more than 160,000 e-scooters, e-bikes and e-mopeds the company currently operates in 16 European countries.
Constituent parts of the batteries are recycled into their raw materials, minimising the need for primary resources in the production of new scooters and other light electric vehicles.
The agreement with Remondis from Lünen builds on an initial partnership with the Berlin-based company in 2021.
In order to minimise the environmental impact and ecological footprint of shared micromobility, TIER and Remondis aim to return valuable precious metals such as cobalt, nickel and manganese and other recyclable materials such as plastics, aluminium and electronic components to the raw material cycle. Batteries are only sent for recycling if they cannot be repaired or be reused. TIER already provides a second-life solution for lithium-ion batteries through its partnership with Vertical Values.
Ailin Huang, Head of Sustainability at TIER Mobility, said: "Proper recycling of lithium-ion batteries is crucial for reducing the environmental impact of our services, while also making an important contribution to securing the future availability of raw materials. In Remondis, we have found an experienced partner who supports us in the development of new innovative solutions and forward-looking perspectives for battery recycling."
Lukas Wiedenmann, Key Account Manager at Remondis, said: "We are delighted to be working with TIER Mobility to make the future of electric micro-mobility even more sustainable and green. The CO2 savings and substitution of primary resources greatly protect the environment and climate and alleviate the industry's procurement pressure."
As part of its commitment to sustainability, TIER has adopted the United Nations Sustainable Development Goals (SDGs) as a guiding framework and turned them into an agenda with clear linkages for daily action. Ailin Huang, Head of Sustainability at TIER Mobility, said: "Recycling is part of the United Nations Sustainable Development Goal 12: Sustainable consumption and production. Recycling our products is therefore a natural part of our efforts to further promote true sustainability in the (micro)mobility industry."
TIER strives to set the bar for sustainability in the micro-mobility industry and is continuously pioneering the development of new standards. In 2021, TIER announced its partnership with Northvolt, a leading innovator and supplier of sustainable, high-quality battery cells and systems, to improve the environmental impact of the batteries used for electric vehicles. TIER also partnered with Nunam, a German-Indian impact-driven start-up company advocating for a green power supply in rural India. In February, TIER and Berlin startup Vertical Values entered into a partnership to extend the lifespan of batteries by repairing and upcycling lithium batteries across European markets.
+++ENDS+++
ABOUT TIER Mobility
TIER Mobility is Europe's leading shared micro-mobility provider, with a mission to Change Mobility for Good. By providing people with a range of shared, light electric vehicles, from e-scooters to e-bikes and e-mopeds, powered by a proprietary Energy Network, TIER helps cities reduce their dependence on cars. Founded in 2018 by Lawrence Leuschner, Matthias Laug and Julian Blessin, TIER is headquartered in Berlin and currently operates in 250+ cities across 22 countries in Europe and the Middle East. With a focus on providing the safest, most equitable and most sustainable mobility solution, TIER has been climate neutral since 2020.
TIER's investors include SoftBank Vision Fund 2, Mubadala Capital, Northzone, Goodwater Capital and White Star Capital. For more information, visit www.tier.app.