TIER reached 1 million rides, faster than any eScooter company before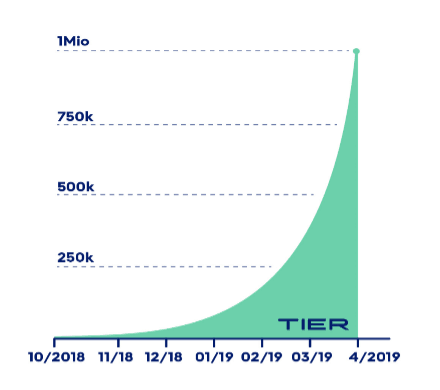 The company has hit the mark of 1 million rides after it launched its business c. 6 months ago, setting new growth standards
Since October 2018, Berlin based TIER expanded to 19 cities in 10 European
countries and has grown to a company of 180 employees
By the end of this month, TIER will also launch its service in Zurich and Abu Dhabi
Berlin, 24. April 2019 – Berlin based eScooter sharing provider TIER (about.tier.app) today announced that it hit the milestone of 1 million rides yesterday, only 192 days after it launched its service in Vienna on October 13th 2018.
TIER puts reaching this milestone in the context of mobility being radically and rapidly transformed. Scooters are being adopted faster than ride-hailing and have just overtaken station-based bicycles.
TIER is proud to be playing its part to delivering the big benefits that accrue from this shifting pattern towards microbility services for the benefit of cities, consumers, and environment. The company wants to offer alternative solutions to short car rides while giving customers a flexible way of transportation.
Lawrence Leuschner, CEO and co-founder of TIER: "I couldn't be more proud of my team and more grateful to our customers. This fantastic milestone of 1 million rides is a great incentive for all of us to further accelerate on our mission to relieve cities of traffic jams, protect the environment and give people a flexible, joyful ride. We want to change mobility for good."
Alex Gayer, CFO of TIER: "I've worked for some seriously fast growth companies but our growth here is truly exceptional, which is even more impressive given we've deployed only a fraction of the capital of our competitors to achieve this milestone."


+++ENDS++++



About TIER Mobility
TIER Mobility is Europe's leading provider of micro-mobility with a mission to change mobility for good.
The company is a driving force behind the change in the transport sector, which aims to significantly reduce car traffic in cities by providing people with a wide range of electric vehicles.
As part of its commitment to sustainability, the company has adopted the United Nations' Sustainable Development Goals (SDGs) as a guiding framework and has set a clear agenda for reducing and offsetting emissions. As a result of these measures, TIER Mobility has been a climate-neutral company since January 2020.
TIER Mobility operates in 85+ cities in 10 countries. The company is headquartered in Berlin and employs about 900 people. Founders of the company are Lawrence Leuschner, Matthias Laug. and Julian Blessin.
The company's investors are SoftBank Vision Fund 2, Mubadala Investment Company's financial investment arm, Mubadala Capital, Northzone, Goodwater Capital, White Star Capital, Novator, RTP Global, Speedinvest and many more. In addition, there are selected business angels and individual investors like Formula 1 World Champion Nico Rosberg.
For more information about TIER Mobility, please visit: about.tier.app. You can find more pictures here.
About the Management Team
The management team is composed of some of the most experienced and execution-driven entrepreneurs in Europe: Lawrence Leuschner (CEO & co-founder), Matthias Laug (CTO & Co-founder) and Alex Gayer (CFO).
Lawrence Leuschner was previously CEO and co-founder of reBuy, Europe's leading online used electronics and media retailer, a company dedicated to extending the life cycle of over 100 million products and sales of around €200 million.
Matthias Laug brings tech and logistics experience to the team, having been co-founder and CTO at the food delivery startup Lieferando and later CTO at the tech unicorn Takeaway.com, supporting one of Europe's most successful tech IPOs in recent years.
Alex Gayer has previously worked at some of the fastest growing tech companies in Europe, most recently as CFO of Receipt Bank and prior to that SwiftKey, overseeing its sale to Microsoft. Alex Gayer brings a track record and expertise in financing and scaling companies.