Drinking and riding don't mix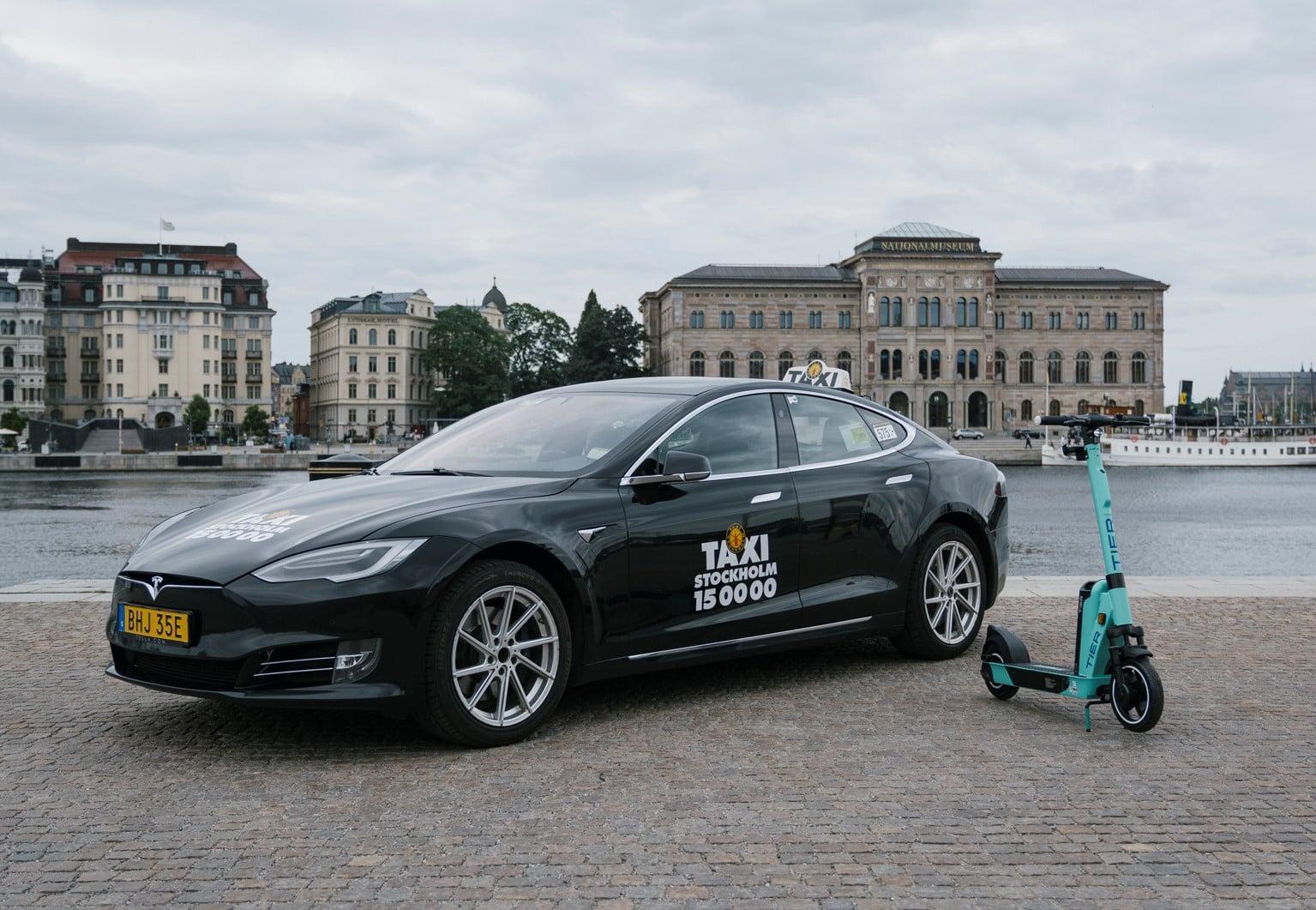 You've had a few drinks after work, or maybe you've had a great night out with your friends and now it's time to head home.
Jumping on a TIER e-scooter would normally be the quickest, easiest option to get you on your way – but only if you're sober. Drinking and riding don't mix. Full stop. Driving under the influence just isn't smart. It can lead to accidents and injuries, not only for the rider but also for other road users and pedestrians. And not only if you've really overdone it. Any alcohol impairs your judgement, can make you physically unsteady and slow your reaction times. Let's not forget that even if many countries don't have a set alcohol limit for vehicles classified as bicycles, riding under the influence still can be dangerous. The International Transport Forum estimates that the share of road deaths that are alcohol related is estimated at over 20% globally¹. E-scooter injury analysis in the US cities of Santa Monica and San Diego suggest a strong correlation between alcohol consumption and crash severity, so it's vital that everyone plays their role in helping to prevent drink riding².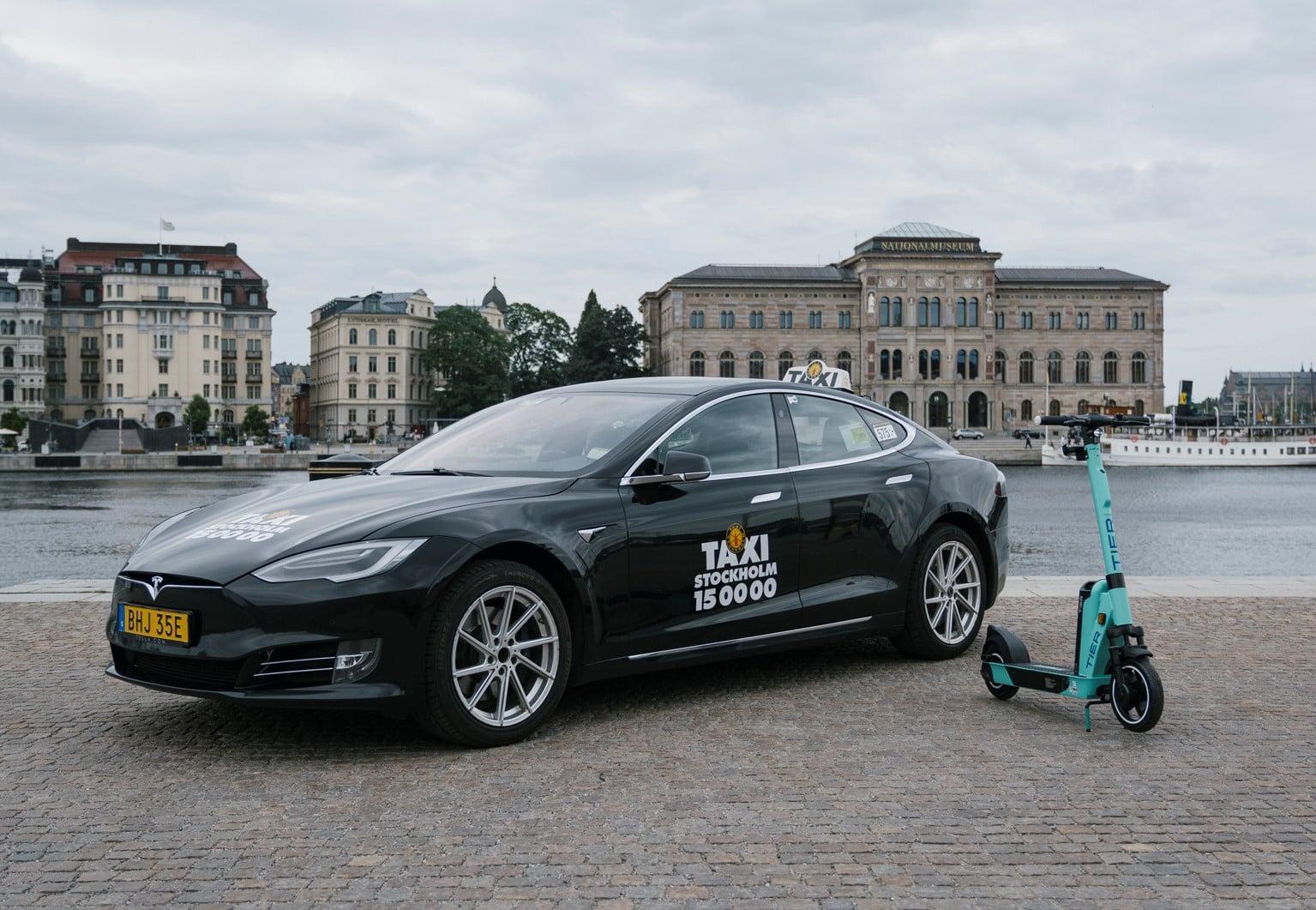 And let's face it, if you have had a few you may need a little reminder to consider whether you should be operating a vehicle of any type and that maybe hopping in a taxi makes a lot more sense. That's why TIER is rolling out a new and innovative 'anti-drink-riding' feature in several cities as a part of our commitment to being the industry's safest operator. 'Our job at TIER is to make it as easy as possible for our riders to make the safe and sensible choice', says Benjamin Bell, Director of Public Policy, Northern Europe.
TIER e-scooters already come with best-in-class safety features which minimise the risks to riders and the public. Things like prominent indicator lights, shock absorbers and a large front wheel, which provides greater stability. Our scooters also have triple brakes and a double kickstand which means TIER leads the sector in safe stopping-distance and wind topple tests.
Yet when it comes to curbing drink-riding, we've gone the extra mile by rolling out our new and unique feature in several cities, including London, Stockholm and Oslo, and Helsinki. Our 'anti-drink-riding' innovation is active between 9pm and 4am on Thursdays, Fridays and Saturdays. It's simple but effective. In London, for example, riders are reminded of the laws on drink-riding and asked if they are okay to ride. If they have been drinking, an in-app notification will direct them to book a taxi via the FREE NOW app. TIER is partnering with Taxi Stockholm and Oslo Taxis on similar partnerships in Sweden and Norway. Is it foolproof? No. As with cars and bikes, it is not possible to eliminate the risk of people drinking before they get going, but first indications are that it's a popular feature and people are using it to make safe and responsible transport decisions.
The design of our 'anti-drink-riding' feature was informed by our research partnership with Innovation Bubble, which found that there are both psychological and pragmatic drivers behind why people drink and then ride an e-scooter.
Psychological insights:
Research found that those who drink and ride don't feel they have ever consumed enough alcohol that would pose a danger to themselves or others. They base this on a feeling of control, rather than looking at the actual metrics of alcohol they have consumed. People choose scooters as a mode of transport after drinking because it allows them to have control over their journey home. They can set the speed, route and timing of their journey. Our research also found that people were optimistic about how much alcohol affected them; they believed even if they were tipsy they were still in control.
Pragmatic insights:
Our interviews also showed that participants lacked awareness of the legal implications of drinking and riding an e-scooter. Riders interviewed also felt that the decision was also spontaneous so they didn't think through the consequences of drink-riding, plus with a shorter journey they felt the perceived risk was lower.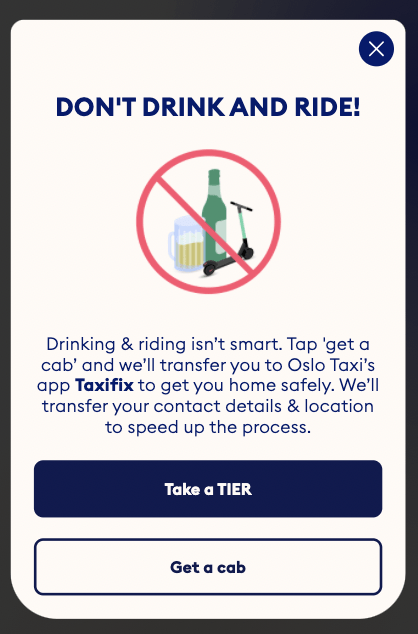 TIER's new 'anti-drink-riding' feature' aims to give riders control over their journey by allowing riders to easily reach their destination via a cab and providing timely reminders of when it's not safe to ride an e-scooter. So, can we claim no one will ever operate a TIER e-scooter if they are over the limit? Of course not. People are people and you only have to look at the many anti-drink driving campaigns focused over the years on car drivers – yet there are sadly still too many motor vehicle accidents, often with tragic consequences, in which alcohol has played a part. But we are confident that the vast majority of TIER riders will know to use our vehicles responsibly if we do our part to make what's acceptable and what isn't clear and simple – and by providing smart and easy transport options.
We've gained a lot of experience and know-how from operating in more than 120 cities across 13 countries in Europe and in the Middle East. Something we've learned is that it takes a commitment to innovate, work with city officials and police and traffic departments in order to develop and offer new features and initiatives that effectively promote safe and responsible riding, and we will continue to do just that.
¹ (ITF, 2018)
² https://www.itf-oecd.org/sites/default/files/docs/safe-micromobility_1.pdf